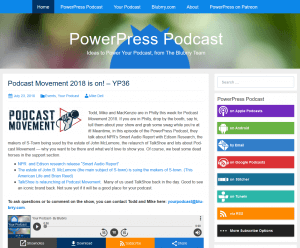 The PowerPress theme is the most powerful WordPress theme for podcasting from the makers of the PowerPress podcasting plugin. Optimized for viewing on mobile phones and desktop screens, the PowerPress theme allows your podcast website to shine everywhere it needs to.
Built For Any Screen
The PowerPress theme is built to work on any screen by default. The backbone to the PowerPress theme is Bootstrap, the most popular front-end framework for designing websites and web applications. Bootstrap's responsive framework provides an optimal viewing experience with easy to read navigation and font sizes for a wide range of devices, from mobile phones to large screen desktop computers. With over 90% of podcast consumption happening on mobile devices, rest assured your Blubrry WordPress Website utilizing the PowerPress theme will look great on every mobile screen.
Page Layout Options
The PowerPress theme comes with 2 basic page layout options as well as a full width template.
Extensive Color Schemes
The PowerPress theme comes with over 20 pre-configured color schemes, making it easy for you to get started with a color palate for your podcast website.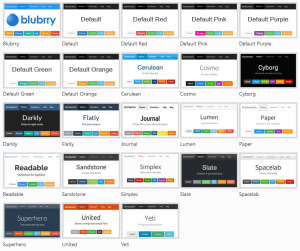 Extensive Color Options
The PowerPress theme comes with extensive color options, allowing you to customize the colors of every aspect of your website.
Header Options
The PowerPress theme header options include a custom logo, control if you want the header navigation above or below your logo, and a provision for adding custom content such as a banner ad.
Background, Links and Borders
The backgrounds of both the header as well as page content as well as the page links and borders can be customized with your own custom colors and/or your own image.
Fonts / Typography
Select from hundreds of web friendly Google fonts with a single click.
Footer Customization
The PowerPress theme footer can be fully customized utilizing the familiar text editor to edit the footer to precisely what you want displayed.
Blog Posts Optimized for Podcasting
Blog posts are optimized for displaying podcasts and search engine optimization. You can control if the excerpt of your blog posts and featured Images are displayed.
Extend Styling Built-In
The power of web development comes from the ability to customize the CSS. With just a click of the mouse you can extend the styling options via CSS right from the PowerPress theme settings.
Import and Export
The PowerPress theme includes export and import options giving you the flexibility to switch your theme with just a click of the mouse.
PowerPress Theme Examples
Checkout our theme gallery for examples of this powerful and versatile podcasting theme.
[foogallery id="6344″]
We've also put together a demo to walk you through setting up the PowerPress Theme. Find the written walk-through and a video demo here.