Private Podcasting
Deliver secure podcast audio and video to any device
Remote communications just got easier
A modern, private podcast solution for announcements, training, speakers, interviews, educators, exclusive or bonus content. Exclusive content for audiences just got better.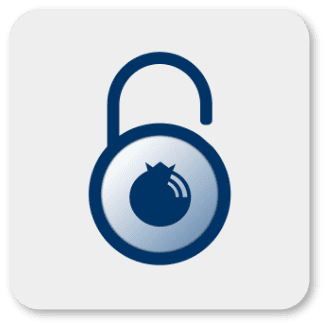 Simple
Fast, easy and inexpensive

Private podcast feeds with authentication via third-party apps

When moderate security is sufficient
Standard
Extra layers of security to help protect confidential information

User group management

Secure your internal communications at an affordable price
Enterprise
Your security requirements will drive personalized services

We'll walk you through the options for a customized plan suited to your needs

The highest security possible
Private Communication and Security, Made Simple
Podcasts are a perfect medium for private content. When content is intended for only certain audiences, that means it's not meant for anyone else. That's why Blubrry focuses intently on security with our Private Internal Podcasting services. One security feature is never enough. Blubrry provides various security layers to ensure your media is protected. Implementing your desired security level is easy on your end; we take care of the hard stuff.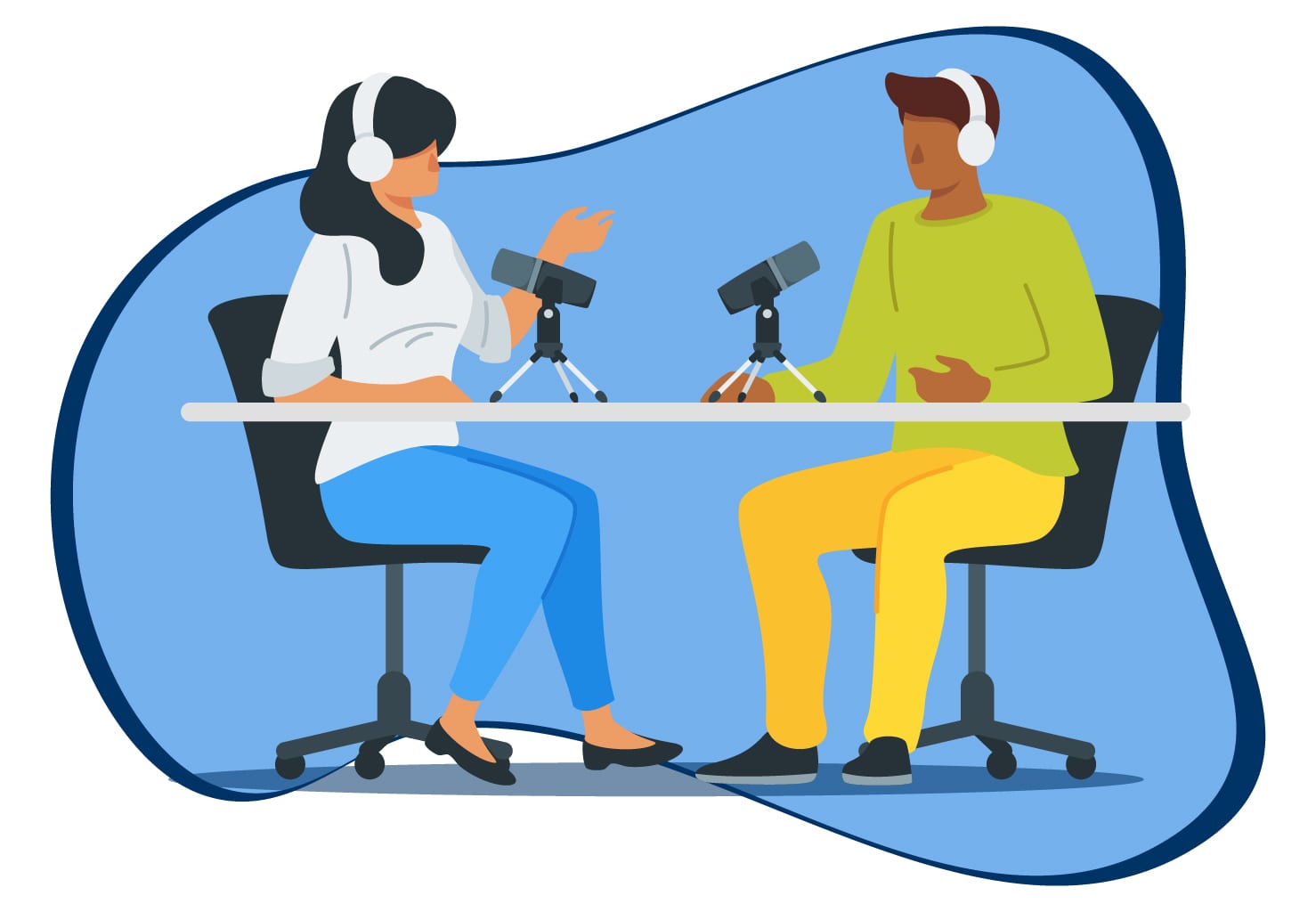 Plan Breakdowns
Features
Simple Plan
Standard Plan
Enterprise Plan

SIMPLE PLAN

$150

Per Month

STANDARD PLAN

$250

Per Month

ENTERPRISE PLAN

Contact

For Price

Features

Shows Included
1
1
1
Additional Show
$50/month
$100/month
$100/month
Users Included
100
250
500
Additional Users

$25 per 50/month

$40 per 100/month

$30 per 100/month

Unlimited Storage



Unlimited Audio Bandwidth



Video Bandwidth Per GB
$0.01
$0.01
$0.01
Statistics: Advanced



Private Podcast Feed with
Authentication (SSO not supported)*



Signed media URL authentication



Blubrry Private Podcasting Web App



Blubrry Private Podcasting
Mobile Apps (iOS & Android)



Simple Authentication



User Management




Branded web application





SSO Supported, OAuth2, SAML




User Group Management



Mobile app only for added
security



Streamable only, media never stored on the device
(mobile app only)



Stored media encrypted in transit and at rest
(branded mobile app only)



Branded mobile application iOS/Android



Contact Us
Contact Us
Contact Us
Some  of our Private Podcasting Customers


Business and Organizations
Consider these common Private Internal Podcasting use cases:
Executive announcements and updates: C-suite messaging, company announcements and other organizational briefings.

Employee onboarding: Your company believes new employees deserve a special welcome and a stellar orientation.

Training: New employee, compliance and sales training are a few use cases.

Sales enablement: Keep your salesforce engaged and enabled when you can't meet in person.

No meeting notes: Easily record meetings so anyone who wants to review meeting content can return to the podcast.

Read our White Paper on Private Podcasting.
Independent Podcasters
Private Internal Podcasting fulfils your needs with a convenient group management interface.
Premium or bonus content: Indie podcasters often need a way to distribute their exclusive content to select audiences.

Audience management: Easily create and select groups to receive your exclusive content with Blubrry podcast hosting.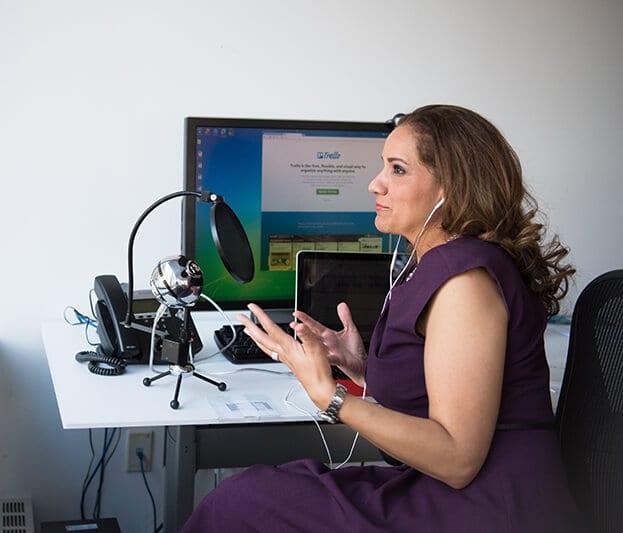 Secure Access from Anywhere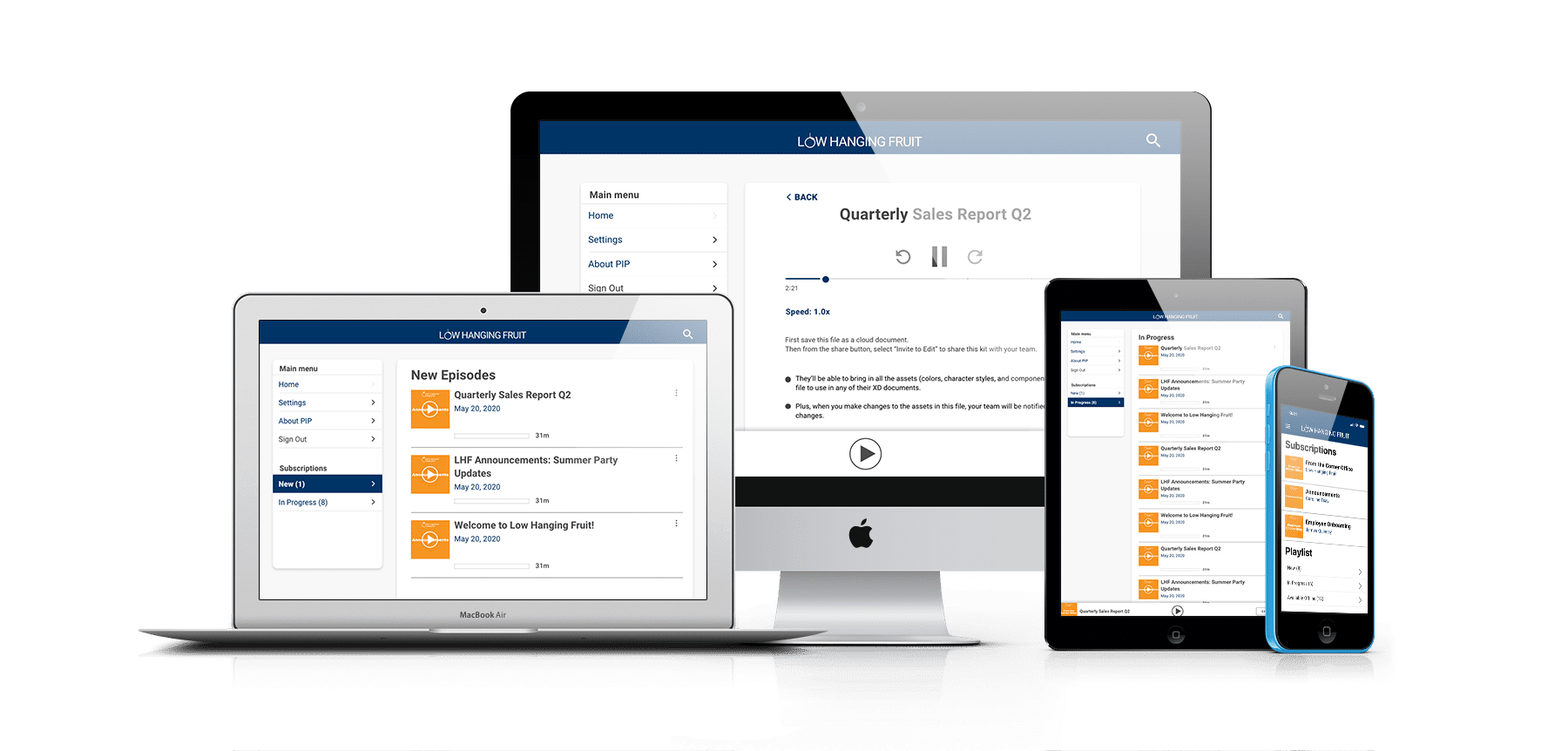 Progressive Web Application
The same experience as our mobile app, but available on your desktop.A great way for teams that want to move forward with audio and video communications, but keep it strictly in-house (aka the office or the virtual office). Get peace of mind knowing that your information isn't traveling outside of the office.
Convenient Management
User Group Management: Organize user groups (teams), based on intended audience (shows intended for each user group). Create and delete user groups. Add, edit or delete users within a user group.
Personalize the Apps: Brand the progressive web app and mobile apps with your logo.
Security Decisions: Set the desired level of security for each podcast. Choose your security options and user groups for each show.
Integration: With your existing OAuth2 or SAML identity provider so that team members can use their regular credentials. Migrate episodes from other podcast hosting companies. Embed new and past episodes onto your existing website.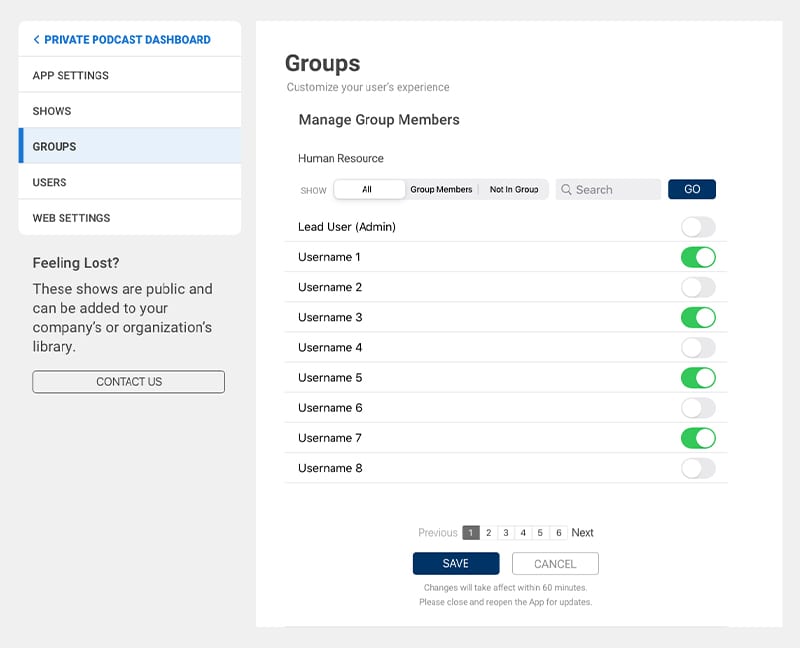 Podcast Statistics for the Team
Podcast Statistics are analytics that shed light on how your audience is consuming your message. Statistics provide critical insight that can lead to improvements and refinements to your podcast episodes moving forward. That's why Blubrry offers Professional and Advanced Podcast Statistics.
Audience information includes full downloads, geography, date/time, platforms and players, devices and more.
Consumable data, trending graphs, easily exports.
Are you keeping your audience's attention and retaining listeners throughout your episode?
Play- and partial-download data provide insight into how much of the episode was heard.
Individual team member tracking will be available soon. Check our blog for updates.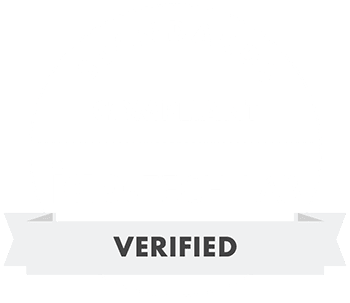 Private Internal Podcasting Support

Frequently Asked Questions
Why would my company need private podcasting?
Podcasts aren't just for organizations with remote members. Creating a private podcast for your business is ideal for many types of internal communications.
Other communication vehicles have shortcomings that podcasts help overcome:
Written communications via email and intranet have low readership

In-person and virtual live meetings are missed by those not in attendance, and so is the information shared

On-demand video, while more engaging than the written word, requires more time, cost and production expertise
In contrast, podcasts are:
Engaging and personable

Inexpensive to produce 

Consumable on-demand

Measurable

Perfect for C-suite messaging

Ideal as a training medium
My company doesn't have remote workers, do we need Private Internal Podcasting?
In-person and virtual meetings have their place. But what happens after the meeting? Was the information shared in the live meeting captured somewhere so that participants can revisit it later? What about team members who weren't able to attend?
What platforms and devices can be used to listen to podcasts?
Blubrry Private Internal Podcasting offers both a mobile and web application. So whether in the office or on the go, your audience can listen on their mobile phone, tablet, laptop, desktop or smart TV.  This is the flexibility you're looking for to maximize the consumption of your message when, where and how it is convenient for your team members.
Why is it important to have high security for my internal communications?
How important security is depends on the type of information you plan to share internally. Is the information confidential to only certain people within your organization? Does the information include trade secrets, intellectual property or other information that may be valuable to your competition? If the information were forwarded to an unidentified third party, would it matter if it were consumable? Answers to these questions will help you to determine the level of security needed for your internal communications.  Blubrry has multiple security options that can vary based on the specific information shared.
What security features does Blubrry offer?
All private podcast media is

NOT

publicly accessible.

Users are authenticated with encryption to Blubrry's servers.

Media URLs are signed using timestamps that are changed every 24 hours.

Media files stored in the mobile app can be saved encrypted at rest.

Media can be made available mobile only, never stored on device.
What customized features does Blubrry offer?
Some organizations want custom services and terms of use. The Enterprise plan can accommodate custom requests.

Various security options based on the specific information to be shared

Upload your logo to brand the web and mobile applications
Is this communications solution mostly for very large organizations?
Companies and organizations of all sizes want engaging, convenient and cost-effective communications that their team members will actually consume. Since podcasting is surprisingly affordable, even small organizations can gain the benefits of podcasts.
Why aren't all companies using podcasting for internal communications?
Podcasting started in 2004 and has grown in popularity primarily for entertainment purposes. With added security layers, organizations and companies of all sizes are discovering podcasting for internal communications and training purposes. Team members like it because they can listen on the go.
Are internal podcasts mostly for companies to communicate with employees?
Organizations of any type can benefit from this communications medium. Nonprofits, clubs, churches, sports organizations, educators, trainers and more have all used podcasting as an internal communications tool.  Their members like it too, since podcasts are more engaging than reading and more convenient to consume on the go.