For Blubrry Dynamic Advertising Insertion and mid-roll Programmatic advertising to work properly you must follow the detailed file requirements below.
Blubrry DAI Only – Inserted media matches: episode bitrate, sample rate, the same number of audio channels (mono/stereo), and audio type Ad files will be mixed to the levels of the episode if they do not match.
For mid-roll insertion for both Blubrry DAI and or Programmatic Advertising, an ID3 Timestamp must be inserted in the "comment field" of the ID3 comment tag as follows.

Note: This is for mid-roll positions only.  Ads that are pre or post-roll do not need a timestamp in the comment field.

If you want Midroll1 to be inserted at 5 minutes and 10 seconds, you would use the following:

If you want Midroll1 at 4 minutes and 26 seconds and 5 milliseconds and a Midroll2 at 1 hour, 22 minutes 46 seconds and 3 milliseconds the comment tag will be formatted as follows.

mid1 00:04:26.5, mid2 01:22:46.3
Note: If you fail to place the time hack in the comment field, the mid-roll ad will not be inserted. You can use third-party software to input the fields before publishing.
This can be done inside the Blubrry Dashboard before or after publishing; in the episode area in the Blubrry Podcaster Dashboard, you can edit your mid-roll points.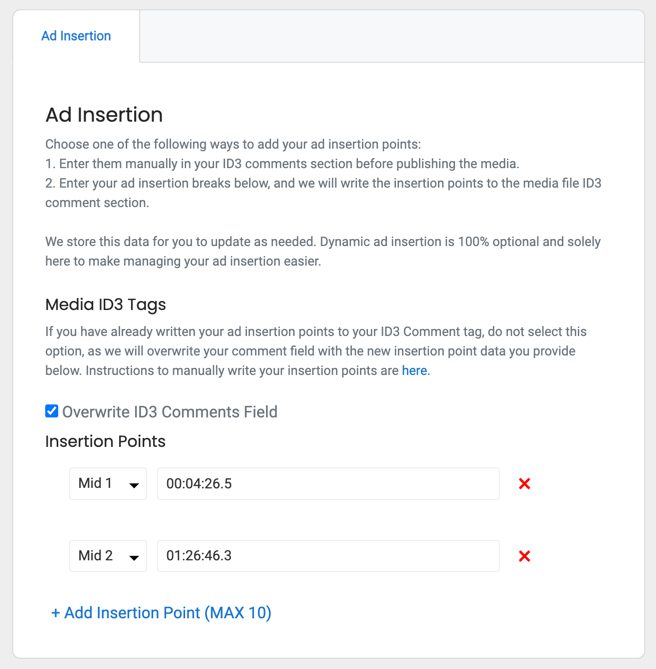 Important
This applies to PowerPress publishers as well. You can enter your mid-roll points after publishing them in the Blubrry Dashboard.
Please Note: If you are using programmatic advertising as a PowerPress user, we recommend that you manually enter your mid-roll points manually before publishing as you may miss out on mid-roll ads being placed in your content automatically as our ad provider caches your media file upon first download request. If you are using programmatic advertising and you enter your mid-roll points after publishing in the Blubrry Dashboard episode edit area, you will miss out on Mid-Roll ad placement for a period of time.
We highly recommend mp3s for any podcast file. It is the most widely used and accepted in the podcasting community. For more information of files, read here.