Your podcast episodes shared on Facebook and YouTube will include the first two minutes of the episode and, if you would like, you can setup a post-roll outro to play after the two minutes. This could be something such as: "To hear the rest of this episode, go to PowerPressPodcast.com." The idea is to drive people to your website to listen and hopefully subscribe to your podcast.
You can record the message for the end of your YouTube or Facebook video and save it as an mp3. The files must be mp3 and less than 10mb in size.
Once you have your file, upload it in the Podcaster Dashboard. In the Social Media section, select Manage Post Roll Outro.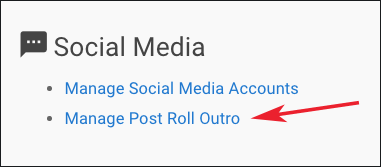 On that page you can select your file and upload it.

Once the file is uploaded, it will be applied to the end of your YouTube and Facebook podcast posts.