The Custom Podcast Channels feature in PowerPress allows you to add another podcast to your WordPress website. Example uses are:
Multiple Formats
If you want to distribute both an MP3 and an MP4 version of your podcast, use the default podcast channel for your MP3 media and create a custom channel for your MP4 media.
Two Versions of the Same Podcast
You create two versions of your podcast — a 20-minute summary and a full two-hour episode — use the default channel for your 20-minute summary episodes and create a new custom channel for your full-length episodes (or vice versa).
Multiple Shows
You already have a podcast on your WordPress site, but want to add another one with its own RSS feed.
A note on unique feed titles
You want to make sure the podcast feed title for each channel is unique. Some directories will not allow podcasts with the same title.
Configuring Custom Podcast Channels
Start by going to your PowerPress > Advanced tab and enabling "Custom Podcast Channels" by selecting the checkbox, then Save Changes.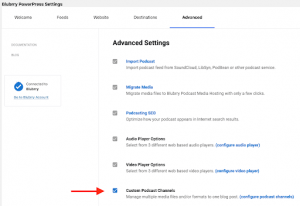 A new menu item will appear in your sidebar under PowerPress called "Podcast Channels."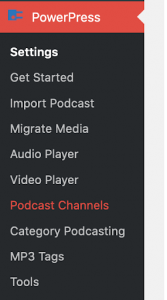 Once you click on Podcast Channels in the left navigation menu, it will allow you to add a channel. Fill in your information for your new channel and hit "Add Podcast Channel."  The Feed Slug setting will determine what your feed URL will be for the new channel. Example: http://example.com/feed/feed_slug_here/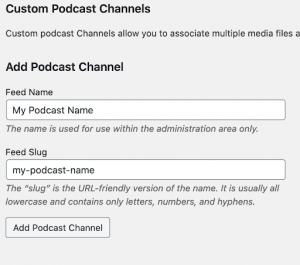 To configure your new channel, hover your mouse over its name on the right and select Edit. You will find the same sort of tabs you will find in the normal PowerPress settings. Fill out all the tabs that apply.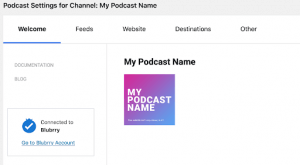 Make sure you fill out the feed title and description of your new channel, which is found in the feed settings tab.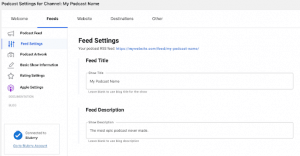 How to setup and use Podcast Channels in PowerPress: