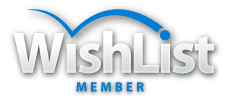 Setting up a premium podcast with Wishlist Member plugin is easy and comes with the added benefit of providing a unique URL to each subscriber for applications that do not support feed authentication.
Go to the PowerPress menu > Tools sub-menu (found on the left navigation bar of WordPress. Under tools, click the option "Add Password Protection Capabilities for Control of Which Users can Access Your Podcasts" to enable.
Add members to wishlist to access your premium content.
When your members attempt to access your podcast feed they'll be prompted for their membership username and password. Alternatively, you can issue members unique URLs that allow members to bypass the authentication prompt which is ideal for podcast applications that do not support authentication.
Modification to allow WishList Member to work with PowerPress
Older versions of WishList Member plugin require a modification to your wp-config.php for PowerPress to override the protected feed behavior built into the membership plugin.
define('POWERPRESS_ENCLOSURE_FIX', true);
Newer versions of WishList Member plugin require a change to your settings to enable podcasting. Go to WishList Member menu and select "Settings". Under Settings select the "Miscellaneous" tab. Find the setting labeled "Disable RSS Enclosures for non-authenticated feeds" and select "no" then save your changes.