High Performing RSS Features With Blubrry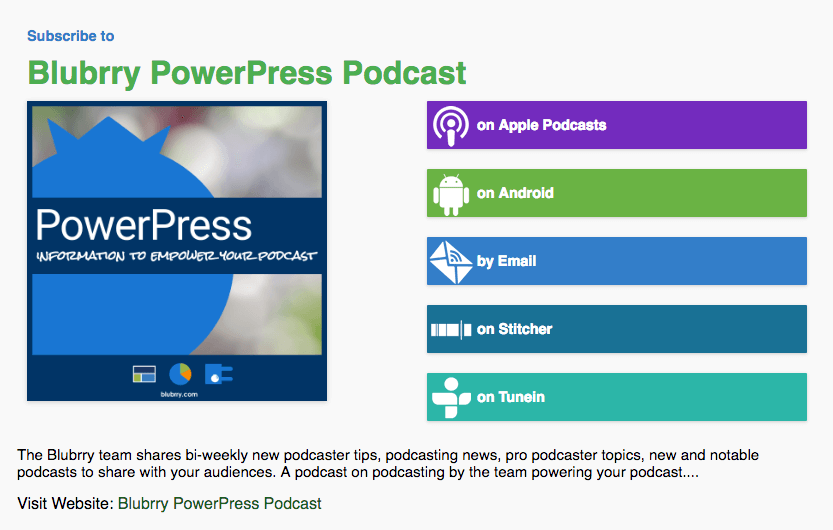 Blubrry hosting customers using the built-in publishing platform (not WordPress)
have high-performance RSS feeds! Not all RSS feeds are the same – ours come with features that focus on
listeners subscribing to your show quickly via the latest server technology.
For those not using WordPress and PowerPress, keep reading. For those that do use PowerPress to publish from their website, check out where you can get these features if you're looking for the same podcast feed experience: Podcast Mirror.
Blubrry RSS Feed Features
High RSS Feed Performance
Websites: Websites are crucial for shows and we always support the latest technology releases, such as HTTP/2 and IPv6. But don't worry! We also continue to support HTTP/1.1 and HTTP/1.0 as well as IPv4.
99.99% Uptime: Fun fact, RSS feeds run on servers. Important fact, our servers have failover baked in and each data center has a 99.99% uptime.
Manual Refresh: Podcast feeds update in 60 seconds!
RSS Feed With 100% Compliance
Apple: Follows their file request requirements (head and byte range), and never blocks them from accessing feeds. In other words, it works perfectly in their directory and others.
Websites: Works on sites that live on: HTTP/2, HTTP/1.1, and HTTP/1.0.
RSS Security For Your Podcast
Secure HTTPS included: Secure sites and feeds are required for some applications and services. We keep you covered by providing HTTPS:// feeds.
SSL Certificate: Necessary for secure HTTPS sites and, best of all, supported by all podcast apps and clients.
Google and Others: Keeping up with all new security initiatives, including Encrypt All The Things. Rest assured, we've covered our bases.
Red Xs: No more! Those red Xs you'd see over the padlock in URL bars will be gone.
Podcast Show Quality
Leave the Traffic to Us: Traffic scaling is built-in. No matter how big your audience is, your podcast will remain available at all times.
Smart Caching: Sites that are cached (temporary saved images, files, etc.) load faster, but can cause delays. Our feeds are always cleared for no lagging issues when new updates are found.
Web Browser Friendly
New View: Beautiful, easy to understand podcast feed display in browsers.
Subscribe Links: Apple, Google, Android, Email, etc.
Play: Navigate and play episodes right from the RSS feed page.