Blubrry Standard Stats are automatically included with any Blubrry Media Hosting subscription. Blubrry also offers industry leading stats to all podcasters, even if they're not Blubrry Media Hosting customers.

How to Use Blubrry Statistics Without Being Hosted by Blubrry
Note: Blubrry Media Hosting customers do not need to utilize these instructions. These steps are only for users of Blubrry Free Stats or standalone Blubrry Standard Stats.
Create a free Blubrry account. During the sign-up process, you'll be guided through how to add your first show listing to your Blubrry account. When the process is complete, you will be logged in to your Blubrry Podcaster Dashboard.
Click Setup Free Stats If you're not sure which link to use, start with Free Stats. You can upgrade to Standard Stats at any time in the future.

You'll then need to accept the Blubrry Stats terms of service presented on the next page.
Once you've returned to your Stats Dashboard, click the 3 dots and then click the  Getting Started link.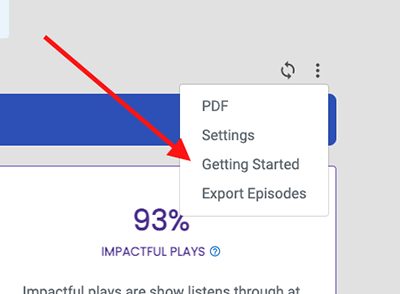 Look for the Your Media Redirect URL. This is the Blubrry Media Redirect URL you'll need to use for Blubrry to begin tracking your podcast downloads.
The following image shows what a Blubrry Media Redirect URL looks like. Note: this is not the actual Blubrry Media Redirect URL you will want to use with your show. It is just an example of a Blubrry Media Redirect URL.

Note: The Blubrry Media Redirect URL shown in the box will start with http:// but you should use https:// instead. For example, the Blubrry Media Redirect URL in the above screenshot is shown as:
http://media.blubrry.com/powerpress_podcast/
But the correct Blubrry Media Redirect URL to use is:
https://media.blubrry.com/powerpress_podcast/
Different podcast publishing platforms have different ways of implementing your Blubrry Media Redirect URL. Guides for a few different podcasting services are listed below:
If you'd like to use Blubrry Stats with a service not shown above, contact support for that service and ask them how to implement third-party stats for your show. Then, use your show's unique Blubrry Media Redirect URL however your podcast-publishing provider recommends.