Show security levels are managed in the Shows section of the Private Internal Podcasting admin. Each show can have a different level of security. Security levels include:
Simple

Full

Full with encrypted address

Full not available offline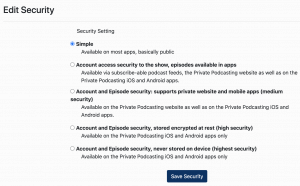 Security levels are explained in the Security section where you make your selection. 
Once you set your security level and publish episodes you are unable to change the security level. You must delete the show (including episodes) and start a new show and set a new security level and re-upload those episodes.