To move your media to Blubrry from Podbean, follow these steps:
All migrations from Podbean include free phone/email support to assist in your transition.
All podcasters get 30 days free service which includes free migration of all your media, hosting service include Media Hosting, Standard Stats, and a free managed WordPress site is included if you need it with each account. Use promo code blubrry005
Leave your Podbean account active until you are done with the migration steps below (or longer if you can).
Set up your show listing at Blubrry by logging in and using your OLD RSS feed from Podbean (if you are not listed on blubrry.com already).
Start your Blubrry hosting account at http://create.blubrry.com/resources/podcast-media-hosting/.
Log in to Blubrry, go to "Manage Account." Select your show from the green pull-down menu.
NEW!  Podcasters aiming to migrate their shows to Blubrry can do so in a simple, three-step process:



In your dashboard, under "Podcast Hosting" request migration
Wait for migration to complete
Update the site with with just one click


By design, the system migrates each file linearly; this is optimal for podcasters who are currently hosting their media on their website or with a service that cannot serve multiple files at a time. Depending on the source and number of episodes, the process could take a few minutes to a few hours. Once completed, the website and podcast can be updated to the new media URLs with just one click.
OR if you are not using PowerPress
Log in to the Podcaster Dashboard, in "Podcast Hosting" select "Migrate Media From Another Service."
You will need to update the media links on your own website. If you are using WordPress + PowerPress we have provided a tool called "Find and Replace Media" that will allow you to quickly update all your media links. If you are not using PowerPress, there is a great WordPress Plugin that is called "Search and Replace."
We strongly suggest you back up your WordPress database before you change over the media links.
Change your feed URL at Podbean (also known as a 301 Redirect)

NEW! Podbean will now allow you to setup a 301 redirect for your Podbran feed to your new feed through blubrry.com or PowerPress. Just log in to your Podbean account and navigate to: New Feed URL. Select the correct channel (if you have more than one podcast at Podbean) and paste your new RSS feed URL in there and save.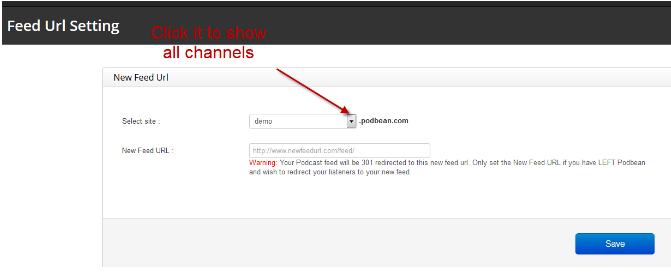 We suggest you leave your Podbean account active for at least 30 days to ensure your subscribers and the podcast directories (Apple Podcasts and others) make the change.