One of the best things about podcasting is how well your audience can get to know you by listening to your voice week after week. But one of the biggest challenges a podcaster faces is how one-sided the conversation can sometimes feel: since they're often listening to you while, say, running or driving, there isn't the same kind of instant interaction you might get with a blog or social media. Fortunately you have a tool at your disposal that can help you stay tuned in to who your listeners are and what they want: an audience survey.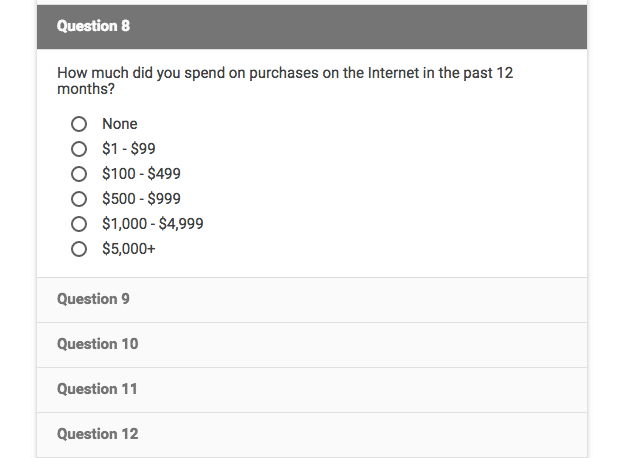 Where can I get an audience survey?
Blubrry offers a free, ready-made survey – it takes less than 60 seconds to answer – that can quickly gather information about your audience's demographics, listening habits, household income, and shopping patterns. It's located in the Blubrry Podcaster Dashboard under Make Money.
Each show with a Blubrry account can run a separate audience survey with a unique survey code, with badges (linked images) in multiple sizes and styles that you can embed on your site or in your show notes to make it easy for your listeners to find, click, and share their information with you. Then, we collect the results and make them easy for you to interpret. Don't worry: we won't share the information with any companies, but if you are looking for advertisers for your show, having this information can help RawVoice/Blubrry match your audience to the right campaign in the planning stages.  
What if I want to make my own?
If you're looking for more specific information from your audience, you can try making your own survey using a service like Survey Monkey or Google Forms. We suggest using the ready-made Blubrry survey to get a general sense of your audience, and then perhaps creating your own to ask your listeners specific questions or test out a new show idea. Just make sure to keep them short: audiences don't have very long attention spans these days, and you don't want to lose your listeners halfway through. A typical survey should take no more than 2-3 minutes to complete. 
Why use an audience survey?
Simple: the more you know about your audience, the better you can serve their needs. If your show doesn't seem to be growing as fast as you like or has become stagnant, you can use the information you learn from an audience survey to make tweaks or improvements to your show.
Survey data can also be a great way to gauge your show's marketability and decide the best way to monetize it. The patterns you can see in survey results give you a more complete picture of who is listening to their show, and can help you adjust your show to be more appealing to advertisers or to decide what kind of advertisers or affiliates will best fit your most engaged audience.
Keep in mind that if a listener takes the time to pull up your website and fill out a survey, they probably have strong feelings about it – either good or bad! – and are likely among your most loyal, engaged audience members. Respect that, and use the patterns your survey data reveals to make your show the best it can be.