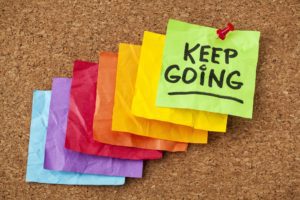 Now that your show is up and running, the next step is to stick with it. You must be consistent, whether it's one show a week or one a month, it's imperative that you keep it fresh. Sticking with creating a podcast is crucial as it allows you to build a loyal audience over time, fostering a sense of community and trust. Consistency in podcasting also enables you to refine your skills, develop a unique voice, and establish yourself as a credible authority in your chosen niche.
For the past 17 years, the Blubrry team has helped tens of thousands of podcasters with tools that enabled them to grow their shows. Every team member has created a variety of shows.
Todd Cochrane, CEO, has been creating two to three episodes of his show weekly since 2004. Todd says creating and building a podcast from the ground up has been very rewarding. He hopes that much of the information you are going to find on this site will help you get started; the site contains information gleaned from years of experience.
We want you to consider a couple of things before you get started. Most podcasters never make it past Episode 7 as they figure out creating content can be a challenge. We challenge you to use this guide to build a show that will reach millions.
Many content creators get discouraged because their audience does not grow at the rate they expect. If you focus on great content, publish on a consistent basis and promote your show, they will come. The thing to remember that the way to a large audience is to have compelling content that keeps them craving more.
The key to success is simple: make sure you are passionate about a topic and go for it.