A listener survey in podcasting provides valuable insights into audience preferences and feedback, enabling creators to tailor content and improve the overall listening experience. It offers an important means to get a snapshot of your audience demographics versus 'guessing.'
Blubrry Podcasting understands the value of a listener survey, and every Blubrry podcaster can run a listener survey as part of their stats or hosting plan. Then see the listener survey results in the podcast statistics dashboard. In addition, the listener survey can lead to more advertising opportunities when included in Blubrry's free, updated-daily professional media kit.  Only 10 survey responses are needed to get your kit underway.

Currently, you can only export your results via a spreadsheet download. But in the coming weeks we will present graphical results of your survey answers to get a quick view of how your audience is evolving.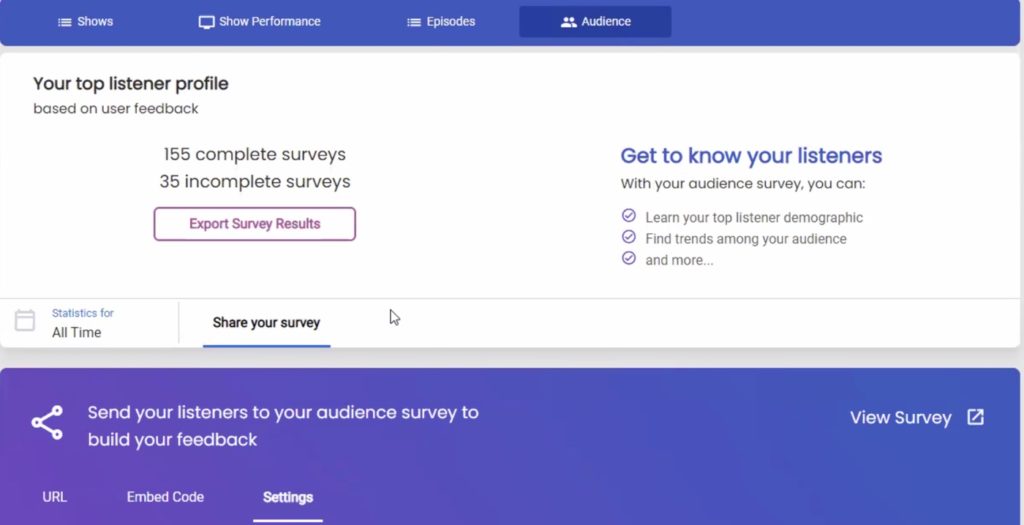 Where can I get the Blubrry audience survey?
It's located in the Blubrry Podcaster Dashboard under in Podcast Statistics Audience section.  Each show with a Blubrry account can run a separate audience survey with a unique survey embed or link,
Then, we collect the results and make them easy for you to analyze. Don't worry: We will not share the information with any third parties. You can use the data to help build your media kit or simply gain insights into your audience that you may not have been aware of.
What if I want to make my own?
If you're looking for more specific information from your audience, you can try making your own survey using a service like Survey Monkey or Google Forms. We suggest using the ready-made Blubrry survey to get a general sense of your audience, and then perhaps creating your own to ask your listeners specific questions or test out a new show idea. Keep them short: audiences don't have long attention spans these days, and you don't want to lose your listeners halfway through. A typical survey should take no more than 2-3 minutes to complete.
Why use an audience survey?
The more you know about your audience, the better you can serve their needs. You can use the information you learn from an audience survey to make tweaks or improvements to your show.
Survey data can also be a great way to gauge your show's marketability and decide the best way to monetize it. The patterns you can see in survey results give you a more complete picture of who is listening to their show and can help you adjust your show to be more appealing to advertisers or to decide what kind of advertisers or affiliates will best fit your most engaged audience.
What do the audience survey results look like?
The listener survey results are displayed in the Podcast Statistics top menu labeled Audience. The best part is this information, combined with the other data we provide, allows paid Blubrry customers to create a one-page media kit.