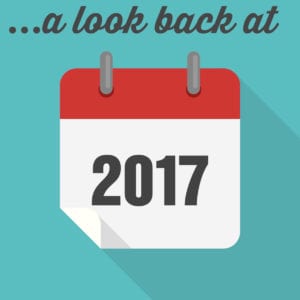 At Blubrry, we never stop moving to make sure our community of podcasters have the tools and resources they need for success! We're always innovating and staying on top of trends, best practices, and the latest technology to make our customers' lives easier and podcasts better. In that spirit, 2017 was a busy year.
Here are just a few things we accomplished: 
We improved our Post to Social service by using shortened URLs and adding the ability to post to multiple destinations at once and to post to Facebook fan pages.
March was a big month! PowerPress reached 1 million downloads, and we launched a new show, "Your Podcast", hosted by Blubrry's Lead Support Technician Mike Dell and CEO Todd Cochrane. Your Podcast has been going strong ever since with biweekly episodes covering everything from stats to technology updates to monetizing. Listen to all the episodes of Your Podcast here.   
In April, Blubrry CEO Todd Cochrane presented at the National Association of Broadcasters' major yearly event, NAB Show. Of course, that wasn't the only event where Blubrry had a presence in 2017. We sponsored, attended, and/or presented at Podfest, Podcon, Podcast Movement, FinCon, and Columbus Podcast Festival, just to name a few. We were also featured on a French TV show about podcasting!
In May, Blubrry launched Blubrry WordPress Website Deluxe, a turnkey podcasting and website hosting service. Deluxe has all the great features of our free Basic service, plus DNS management, email forwarding, Plugin and Theme updating management by support staff, and more.
In June, Blubrry began supporting the New Apple podcast feeds. (Notably, six months later, some competitors still don't.)
In July, we released PowerPress 7.1 with new 2017 tags for iOs 11 included. We also released a new uploader to maximize speeds in anticipation of the release of iOS 11. 
In August, Blubrry sponsored and presented at Podcast Movement. 
In September, we acted as the Title Sponsor for International Podcast Day.
In October, Blubrry CIO Angelo Mandato presented detailed data about statistics reporting to the National Engineering Society during NAB Show New York.
In November, we acquired CastFeedValidator.com, as well as added new servers and tweaked code to work more efficiently. Users of the service will notice how much faster it works since our acquisition!
Blubrry also updated our statistics system to add geographic reporting for Brazil, Canada, and the U.K.
We rounded out the year by releasing Podcast Mirror in December, and also spread some holiday cheer by hosting #BuildYourBlubrry, a 30-day giveaway of all kinds of podcasting goodies.
Whew! What a year. As usual, we've got some exciting new developments underway for 2018, and we can't wait to share them with you soon. We look forward to continuing to provide top-notch products and services so you can keep creating – and sharing – great content.