Podcast: Play in new window | Download (Duration: 18:07 — 25.0MB) | Embed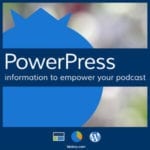 If you're interested to know what Blubrry has been to up, this is a great time to catch up on the PowerPress Podcast. MacKenzie doesn't have a guest but talks about what the Blubrry team has been doing, such as attending the Columbus Podcast Festival and working on Blubrry WordPress Website Deluxe. If you haven't heard, Twitter is also up to something new concerning live streaming, with an unknown launch date. Shawn Thorpe graciously shares another PowerPress tip at the end of the episode as well. Thanks for listening and please subscribe to the show!
Fan of PowerPress? Leave us a review, here!
Show notes:
Columbus Podcast Festival
Blubrry WordPress Websites
Twitter – Live Streaming