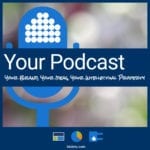 Todd and Mike talk about the new Echo Devices from Amazon, the Podcast Awards relaunch, Small Batch Audio Kickstarter, and about how Blubrry accounts are organized. Also, we answer the question "How many subscribers do I have?" Thanks for listening and please subscribe.
News:
– Podcast Awards – Relaunched and with new rules
– SmallBatch.Audio Kickstarter
– Alexa Echo Show – Alexa exists in what looks like an "iPad" lookalike, including video and camera.
– Alexa calling and messaging enabled
Topics:
Blubrry WordPress Website Deluxe will include the following:
– A fully managed WordPress Website
– More theme options
– Domain mapping
– DNS control
– Email forwarding
– More plugin selections
Tech:
Accounts at Blubrry.com explained:
– Login account – What you use to sign into your overall Blubrry account.
– Show listing – Your show's listing in Blubrry. You can add hosting, stats, PPS to each listing.
– Hosting or Stats subscriptions – These are hosting or stats for individual shows.
When you ask us to "delete" an account, this means your your login will no longer work and ALL of your serivces and listings will be turned off. We regularly received 2 or 3 deletion requests a week, that then wonder why they cannot login anymore.
We get this question all the time: "How many subscribers do I have?" The short answer is, there is no way to tell, listen to the show for a better explanation.
———–
To send us feedback or questions, yourpodcast@blubrry.com