Podcast Insider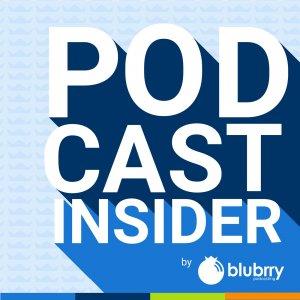 Latest Episodes

July 22, 2021
As we prepare to head to Podcast Movement in a few short weeks, we go over some tips whenever you attend podcast trade shows. While very fun, informative and invigorating, conferences can also be extr

July 15, 2021
It's important to take care of your podcast gear, regardless of the original cost. Podcasters should take the time to clean, properly store and travel with their podcasting gear such as microphones, h

July 08, 2021
Happy National Blueberry Day! Here at Blubrry Podcasting, we love to shed light on any 'holidays' related to our beloved fruit. Often times if people have trouble pronouncing or spelling our name, we

July 01, 2021
After many schedule, title, host and content changes over the years, we are happy to celebrate episode 250 of Podcast Insider, a podcast from Blubrry Podcasting team members. After a quick pat on the

June 24, 2021
Podcast studios need adjustments and tuning up every once in a while, and definitely at least once every 15 months, which is what we did at the Blubrry studio. Todd made his first trip back to the Columbus office and not only fixed all of the mistakes ...

June 17, 2021
Paying for podcasts, while uncommon is now also available directly through Apple Podcasts. The latest Apple update released channels and subscriptions for podcasts this week and we're anxious to see how many podcasters and listeners choose to dip their...

June 10, 2021
Advertising is a vital part of keeping the podcast industry alive, however there are a few misconceptions on how advertising works concerning downloads and delivery. The Blubrry team clears up any confusion and clarifies how it works exactly.

June 03, 2021
Not everything about podcasting is fun and creative; but it's useful to keep up on a handful of tips, for example, a podcast best practice: file naming conventions. Todd and Mike discussed what's currently going on at Amazon Prime and Apple,

May 27, 2021
As a podcast hosting company, we know the finer details of how podcasting works and the importance of the technical side of podcasting, first and foremost the RSS feed. That's why this episode we brought in Angelo Mandato, Blubrry's CIO,

May 20, 2021
The Ambies are considered to be one of the first major awards shows for podcasting and kicked off this past weekend. Guesting on the podcast this week, Barry Kantz from the team discusses multiple podcasting awards shows and interview techniques.