Blubrry is excited to announce PodcastMirror, a new, free add-on service that creates an exact copy – a mirror – of your site's RSS feed, with added formatting to make it more user-friendly.
Think Feedburner replacement, specifically for podcasts and their audience.
Why might you want to mirror your podcast feed? Here are a few good reasons:
A more user-friendly podcast RSS feed.
If a potential listener visits your website and stumbles across your podcast RSS feed, they may be met with a bunch of ugly and confusing code that makes their eyes glaze over, like this: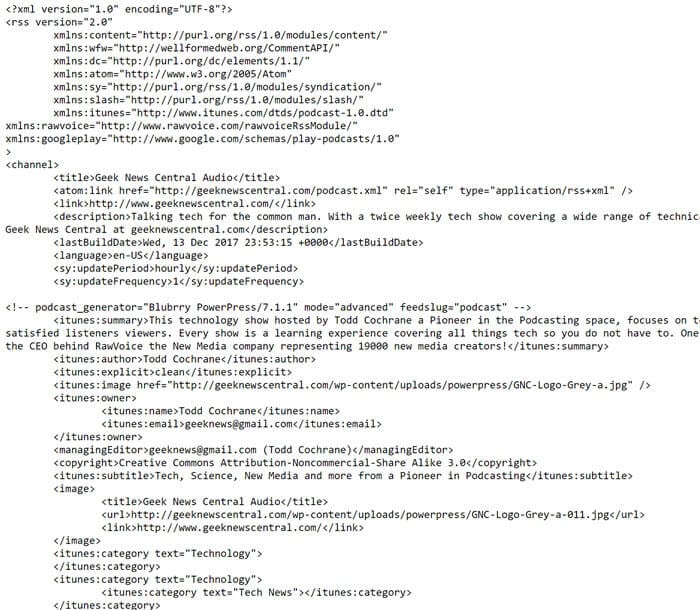 On supported browsers, PodcastMirror creates a streamlined, attractive feed that keeps your branding intact, like this: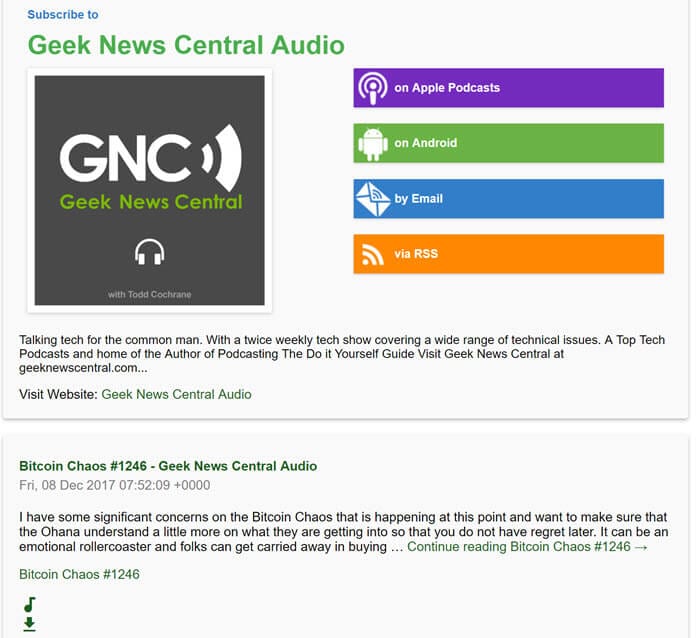 Better performance.
Not all web hosts are like Blubrry WordPress Website, designed from the ground up for podcasters. Podcast Mirror displaces the traffic your website would otherwise have to deal with every time a podcast app, bot, or directory queries your feed. That means an immediate performance boost to your feed, especially if you have a large audience and have a marginal hosting plan. "Podcast Mirror feeds load up lightning-fast," says Angelo Mandato, CIO of Blubrry. Podcast Mirror can also prevent you from having to upgrade your web hosting plan, saving you money.
Built-in backup. 
PodcastMirror is also an easy, built-in way to create a backup of your feed, even if you don't use it as a primary feed. "Everyone should have a good back-up plan," says Todd Cochrane, CEO of Blubrry. "If things go sideways on your website, you can recover the metadata of your blog posts via your Podcast Mirror feed."
Podcast Mirror also boasts these free premium features:
Fast and Up-To-Date. Podcast feeds are cloned across multiple data centers in different parts of the country, each delivering a 99.99% uptime. Master feeds are polled every 15 minutes for edits, or you can manually refresh to update your feed in seconds. And each feed update is verified, so errors in your RSS feed won't wind up copied into the mirrored version.
Compatible: Your Podcast Mirror feed can be used to submit to directories including iTunes, Google Play Music, TuneIn, Stitcher, Spotify, Blubrry, and more.
Secure: Podcast Mirror provides an https: feed to future-proof changes in the space.
Smart Caching: Podcast Mirror bypasses website caching issues that can come up with certain services and is designed specifically for podcast feeds. That means new epsiodes in your feed are available to all the directories, so your listeners won't experience episode delivery delays.
Scalable: Audience explosion? Designed with built-in scaling so audience growth or traffic spikes won't affect your mirrored feed – ever.
Flexible: No matter where you host or where a listener wants to hear your show, your Podcast Mirror feed will be compatible.
Ready to get started? Or, maybe you'd like to read more in-depth information about PodcastMirror's features.
Remember, Podcast Mirror is free, and there's no risk in taking it for a spin. You can delete and return to your old feed whenever you want. But we think you're going to love it.