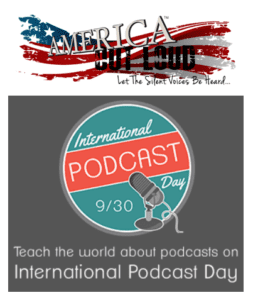 Malcolm Out Loud, host and owner of the America Out Loud network sees the potential of podcasting and creating a network that provides something for everyone. Malcolm started his network a few years ago and has continuously added shows with about a dozen active at the moment. Recently the network wrapped season one of the podcast Life, Liberty and the Pursuit of Pleasure; season 2 starts in November. He's currently looking for new hosts for the show, check out his site if you're interested.
Malcolm has found that by providing a network with content for all types of people that he is gaining a large audience and success. The entire network is run on PowerPress and has been vital to the expansion of the site and network of podcasts.
Dave Lee, co-founder of International Podcast Day explained not only what International Podcast Day is, but how it started and how it has evolved. On September 30th podcasters and podcast listeners from all around the world will celebrate the power of podcasts and their appreciation for the medium. This day of celebration is not just for podcasters, but for anyone that is fan of podcasts, interested in them, etc. Tune in for 30 hours of live streaming of people involved in podcasting all over the world. In it's 3rd official year they will be representing 14 different countries with hopes for more next year. If you're not available to watch live, all footage will be available on YouTube afterwards.
Blubrry is a sponsor of the event and will be involved in two segments: Podcast Problems: What To Do When Things Go Wrong and Proven Social Media Strategies. Get listening and start the conversation!
Fan of PowerPress? Leave us a review here!
Show notes:
America Out Loud Network
Life, Liberty and the Pursuit of Pleasure
What is International Podcast Day?
How to Get Involved and Benefits of Joining the Event
Full Schedule
Speakers Spotlight
Social Events and Meetups
Promotional Material and Twitter Cards
Merchandise
Podcast: Play in new window | Download (Duration: 1:19:09 — 108.8MB) | Embed