Earlier this week, Apple released iOS 11 – and with that release came several changes to the Apple Podcasts directory that will add new functionality and enhance the experience of finding and listening to podcasts. Here are the new podcast tag types:
New Serial program/show type. Not to be confused with the podcast of the same name, this tag will be useful for shows that release content in seasons. Previously, there was no built-in way to direct new listeners to start at episode 1 of the latest season, rather than just jumping in at the latest episode as podcast listeners are accustomed to doing.
While this new tag won't affect most current podcasts, we have noticed an uptick in the popularity of serialized podcast episodes and podcasters who follow this format will benefit greatly from the new options. If your podcast follows a serial format, be sure to utilize the new tags by selecting "serial" in the iTunes Type field of your iTunes tab in the PowerPress plugin settings. Hover over "PowerPress" in the lower left-hand column of your WordPress dashboard, choose "settings" in the menu that pops up, then the 'iTunes" tab in the main window to find the field: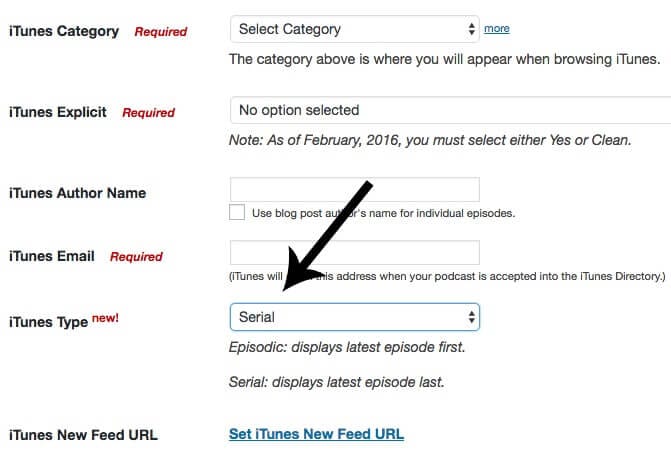 New Title field: Apple Podcasts has made a move toward displaying "clean" titles to listeners during playback – that means no episode numbers or other extra information. For example, if your podcast episode is titled "The Best Podcast Episode Ever, #143," a potential listener would only see "The Best Podcast Episode Ever" displayed as the episode title.
Luckily, here at Blubrry we've been on top of these iOS 11 changes for a while. We included support for these new attributes in PowerPress back in June's 7.1 release and also within Blubrry's publisher interface, and we've also updated our media uploader for Blubrry hosting customers so that upload speeds can be maximized. In other words, if you're a Blubrry hosting or PowerPress user, you're already ahead of the game. We hope you'll find that these additions to Apple Podcasts have a positive impact on your podcast, and remember that if you have questions, our top-notch customer support team is always here for you.