Here at Blubrry, we're pretty proud of our customer service. After all, we're all podcasters here too, and our customers' success is always our number-one priority. We don't mean to brag…but here are six reasons we believe our podcasting customer and technical support is second-to-none:
1. Free phone support. Blubrry's tech support is second-to-none. Tickets are answered within 24 hours – often much sooner – and calls are either answered live or else returned within the day. "I like to say we're the only podcasting hosting company with a phone number," says Lead Support Technician Mike Dell.

2. West coast coverage. We don't assume that all of our customers only have problems or concerns between the hours of 9 AM and 5 PM EST. We have a dedicated support team to serve customers on the West coast – or those who may simply like to burn the midnight oil.
3. Airtight ticket-based support. Our internal tracking system ensures that your ticket won't go missing and will get a timely reply. And if you prefer not to submit a support ticket, we offer many other ways to reach us! 

4. Basic and advanced plugin support. Need to find a quick answer to a simple question about PowerPress? Chances are good that our plugin resources page has the answer you need. But if your question is more complicated, don't worry! We also offer one-on-one podcast consulting for a more personalized deep dive into your particular issue.
5. Value-laden support forums. Blubrry customers are smart, generous, and many have been around the block enough times to figure out answers to the most common support questions. Before you make a call or send an email, it might be worth checking out the Blubrry forums to see if a fellow podcaster has already found out the answer – and is willing to share!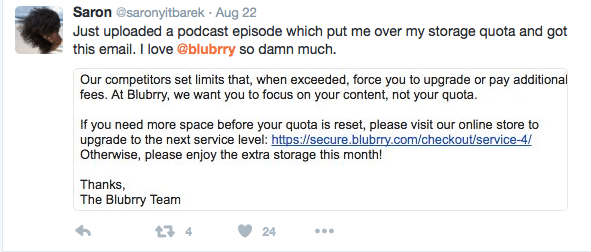 6. Support beyond tech. We know that podcasters have questions that go beyond feeds and plugins. Maybe you need someone to walk you step-by-step to help you better understand our products and services. Or maybe you want to learn more about advertising opportunities. Either way we have a dedicated staff member to help get you the answers you need.
Want to learn more? Check out our Support page for a list of contacts and links.