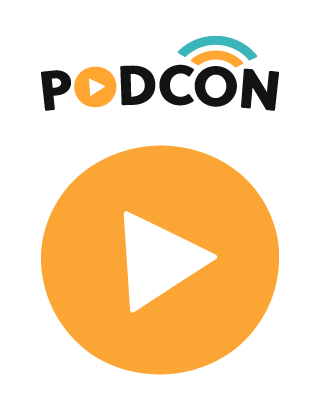 Blubrry is excited to announce that we'll be exhibiting at the first PodCon, December 9-10 in Seattle, WA. While we attend many podcasting events, PodCon is a little different from your typical podcasting conference. How? PodCon isn't just for podcasters: it's also for people who love podcasts.
Presentations focused on podcasting as a person of color, utilizing your local library as a podcasting resource, podcast networks, and deaf accessibility in podcasting, plus a wide variety of meetups, live performances, signings, and chats with podcast personalities and creators will appeal to a wide variety of podcast enthusiasts, from pro podcasters to hobbyists to aspiring podcasters, or those who are content to just keep listening.
With such a wide array of topics represented, you can expect a diverse crowd. Children are welcome, as are cosplay enthusiasts (no masks or weapons, please).
The ticket price is also welcoming: just $100 ($110 at the door if there are tickets remaining). There will also a remote version of the conference available for $30.
Interested in attending PodCon? Hurry and snag your ticket here.
While PodCon is open to anyone who loves podcasts, we at Blubrry can't help but hope that the event helps convert some wannabes who just haven't taken the plunge yet. While tentative would-be podcasters might be too intimidated to attend a professional conference, more inclusive events like PodCon may act as a bridge to help aspiring podcasters learn and network, while also enjoying the entertainment value of getting to see some of their favorite podcast personalities in person. "We're excited to see what this event can provide," says MacKenzie Bennett, Services and Affiliates Coordinator at Blubrry. "People that enjoy podcasts often enjoy the storytelling aspect, and that makes them more likely to one day become podcasters themselves. We're eager to see if any of those people will convert into podcasters as well."
And at Blubrry, we make sure to make it as easy as possible for those aspiring podcasters to launch their shows. "Generally, people are most excited about creating content – not so much the other kinds of work related to producing a podcast," explains Bennett, "so we make navigating the tech side easier for them." With products and services like our free PowerPress Plugin, (used by over 65,000 podcasters worldwide,) our top-notch and incredibly responsive customer service, and our all-in-one solution PowerPress Sites Deluxe, we're focused on creating turnkey solutions that make it possible for anyone to get started podcasting.
So if you're been wanting to start a podcast but have been too caught up in the technical details to launch your show, come see us at PodCon! We might just help you take the leap from podcaster wannabe to proud podcaster.