A full scale modernization of Blubrry's platform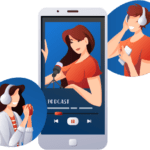 For two years, we've been working on changes to the entire Blubrry Podcasting platform, challenging our dedicated team to come up with new ways to ensure podcasters are getting the best quality service from us and find it easier to podcast in general.
It's a new era for Blubrry. Since the start of our recent modernization we've been busy ensuring all podcasters — new, current, and new-to-us — are getting the help they need; whether that means a free hosting trial, revisiting stats for new data, or migration of their show for free. The focus has never more been on you, the podcaster. As podcasters ourselves, we would be remiss to say we don't have the words to express our excitement over these new changes, releases, launches, revamps, etc.
You all challenged us to build something better, more essential in the podcasting space. We've rebuilt our platform to provide our powerful tools in a more simplistic and inclusive way for all creators: Regardless of publishing style, knowledge base, technical ability and podcast goals. With that in mind, we ask you to…
Publish.
It all starts with the hosting. So, we simplified the onboarding process, moved some features around and completely reworked our dashboard. Once you've published, it's time to share your show and see who is listening.
Analyze.
The updated statistics platform is top notch and helps you understand your podcast better than ever. View the new graphs, charts and metrics to see just how much impact your show has. Use all of our tools to review and determine how you'd like your podcast to grow.
Grow.
Discover the ways in which you can grow your podcast audience with a culmination of our tools and services. Take advantage of our partner integrations within the dashboard, stats, the PowerPress plugin, learn from our podcast manual and share your podcast via our many website options.
…Do More For Your Podcast
Thrive. Monetize. Connect. Succeed. Inspire
A list of our updates in the past two years…
Dashboard

: Brand new UX to focus on ease-of-publishing, show management, statistics, partner integrations and growth tools.

Read here

.

Statistics: Completely new podcast statistics UX while adding retention and impactful data metrics.

Read here

.

Onboarding: New simplified experience for customers ordering hosting or statistics.

Read here

.

PowerPress: Continuous updates to our WordPress plugin, starting with a simplified onboarding experience and a new user interface.

Read here

.

Advanced: Consolidated advanced statistics and Blubrry WordPress Sites into higher-level plans called Advanced Hosting, and soon increased storage limits on those plans.

Read here

and

here

.

Pro Hosting: Automated signup and complete rebuild of billing and account management, available on AWS Marketplace.

Read here

and

here

.

Audience Survey: Updated listener survey questions, results of which will be added to the statistics platform in the near future.

Read here

.

Reorganization, redesign and consolidation of Blubrry web resources including the

Podcast Manual

,

Support

,

Services

and

Developer

pages.

For those of you just catching up on what we've been up to, keep reading beyond this article, it's just the beginning of a new Blubrry.