Experience the future of podcast stats with on-the-go access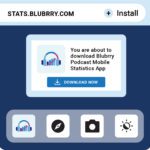 The podcasting industry continues to grow and evolve, as does the need for podcasters to have access to innovative tools that help them stay ahead of the game. Blubrry is proud to release our groundbreaking Podcast Statistics PWA, a progressive web app designed to provide podcasters with seamless access to their show's stats from their mobile phones or desktops. No other podcast host has an offering like this on the market.
Get Excited About Your Podcast Stats
We understand that stats are paramount for most podcasters, so we've created the Blubrry Podcast Statistics PWA to offer you an unparalleled user experience. Gain a deeper understanding of your audience, track your show's performance and make data-driven decisions to grow your podcast like never before. The easy installation process means you can start using the Blubrry Podcast Stats PWA in no time, and you'll love having access to these powerful analytics at your fingertips.
Stand Out in the Crowd with the Blubrry Podcast Statistics PWA
With the Blubrry Podcast Statistics PWA, you'll have a competitive edge in podcasting. Our IAB v2.1 Certified Compliant podcast statistics platform is recognized and trusted by advertising agencies and organizations, so your podcast will more likely attract sponsorships and partnerships. By utilizing the Blubrry Podcast Stats PWA, you'll join an elite group of podcasters committed to lifting their shows to greater success.
A User Experience Like No Other
The Blubrry Podcast Statistics PWA offers an intuitive, user-friendly interface that makes navigating analytics easy for podcasters of all experience levels. You'll have access to extensive podcast performance data, including impactful plays, retention, geolocation, apps and devices, episode comparisons and more. Plus, our Listener Survey Integration feature allows you to see your listener survey results in real-time, making it easier to gain valuable insights into your audience.
Stay Connected on the Go
Whether on your morning commute or traveling for work, the Blubrry Podcast Statistics PWA makes it easy to stay connected to your podcast's performance. Access your analytics from anywhere, anytime using our mobile-ready dashboard for iOS and Android devices. You'll never miss a beat when it comes to tracking your show's growth.
Making Podcasting Easier
Embrace the future of podcast analytics with the Blubrry Podcast Statistics PWA. With its easy installation, mobile-ready experience and industry-leading analytics, there's no reason not to join the thousands of podcasters who trust Blubrry for their podcast statistics needs. Install the Blubrry Podcast Statistics PWA now and start growing your show like never before!