Health and Science – The Dr. Denise Show by Dr. Denise McDermott, MD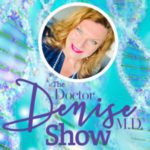 Dr. Denise McDermott wants you and your mental health to thrive. That seems to be something we can all agree on and she is here to help you do so, with the assistance of her wonderful podcast, The Dr. Denise Show. Focusing on mental health overall, her shows expands on a multitude of mental health facets. Her passion for podcasting is one for the books and we hope you enjoy learning about her show. You can hear Todd on Dr. Denise's show earlier this month as well.
Thanks to Denise for joining us this month.
Tell Us About Yourself
Dr. Denise McDermott, M.D. is a medical doctor. She completed her Adult Psychiatry residency at Emory University and her Child Psychiatry fellowship at University of California Los Angeles and was acting Chief Fellow. Dr. McDermott received the "Outstanding Physician Award" at UCLA (2000) and was President of the Southern California Psychiatric Society and guest lecturer at UCLA. She treats children, adolescents and adults and has > 40,000 hours of clinical expertise in her private practice since 2001. Her goal is to empower her patients and their families to live their best life possible.
As an integrative psychiatrist her absolute passion is bridging science, spirituality and psychiatry which inspired her to launch an educational mental health website DrDeniseMD.com (2016) now reaching a global audience > 100,000 on all social media platforms (@drdenisemd).
She is author of "Mental Heath and How to Thrive," and reaches an international audience with her blog. Dr. McDermott was honored to be guest speaker at the Dalai Lama's Tibetan Medical Society Fall 2018 lecturing on "Nurturing Children's Mental Health." She produces and hosts her podcast show The Dr. Denise Show (40K downloads) in which she interviews scholars, mental health advocates, athletes and other influencers.
Dr. Denise is a contributor to the revolutionary spiritual media  "Mind Dive" App created by Michel Pascal and includes Deepak Chopra, Gary Schwartz, Eben Alexander and other luminaries devoted to bridging science, psychology and spirituality. In 2019 she was the health and wellness expert involved in creating 30 wellness challenges for the UK based Elomi Lingerie LiveLimitless Campaign to inspire women to love, honor and embrace their beauty and to promote body positivity!
Dr. Denise received "Best of 2020" Adult and Child Psychiatrist Redondo Beach and was honored as Top 100 Health and Fitness Influencer. In April 2020 she launched the talk show "KEEP IT REAL" with professional basketball player Jarnell Stokes, Emmy Award winning news reporter Cathleen O'Toole and Katherine Axiotis associate producer.
In October 2020 she founded Ascension Media and launched "The Ascension" series and The Dr. Denise Show is now also part of MHNRN which reaches > 190 countries.She is honored to be the  Creative Minds Advisor for the Hollywood Creative Academy founded by Matt Coleman.
Her intentions are  "in motion" and 2021 started out strong with Dr. Denise giving tips on sticking to your New Year's resolutions on News Nation.
She is a proud Mom to her charismatic 12 year old son who is truly her biggest teacher in this lifetime!
What Inspired You to Start Your Podcast?
I was inspired as I am passionate about changing the way WE think, talk and act about mental health. I believe that the podcast medium is an amazing way to meet so many individuals that are in alignment & all around the world. The efficiency of voice to voice and ease of communication is truly and amazing tool for change and inspiration for many.
How Do You Prepare For an Episode?
I have 4 different series right now:
On Staying Sane with Cathleen O'Toole (newest)
Cathleen (Emmy winning news reporter) and I have weekly preproduction meetings to decide topics that are in // with the pulse of consciousness. We decide if we are going to tackle a current event or if it will be an Ask The Doctor episode.
Embrace Your Neurostyle and Beyond
I strategize the goal of reducing stigma re: mental health and have conceptualized which guests represent a "slice" of demographic and how they can discuss the importance of the words WE tell ourselves. I usually send them the two shows that will inspire them so that we can discuss how it relates to them as well.
Creative Minds Series
This series is a "pop culture" meets mental wellness and healing medium(s). I've interviewed directors, record producers and entertainment visionaries. The prep time usually includes watching their television series or movie and having an integrated discussion on the show. 
Diva Discussions 
Similar prep approach yet the guests are usually inspiring women that are doing amazing things in the world to help others.
Divine

Inspirational

Vivacious 

Aware.

DIVA in their own life and inspire others.
Prep included reading the most recent contribution they have given the world!
What Advise Do You Have For Someone Just Starting Out?
Be incredibly humble, and PASSIONATE in the process. Humble: Ask for help from someone that has had a successful show. Ask questions, get the data.
Be PASSIONATE and HONOR your vision. Write down your goals of different seasons of your show. And if you have a family or personal emergency, take time off and let your listeners know you are HUMAN.
Connect with Dr. Denise here…