Podcast: Play in new window | Download (Duration: 58:29 — 80.3MB) | Embed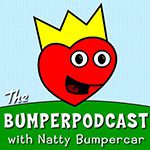 Todd is back this week! We talked about how Blubrry won't kick you off if you get too popular and how we want your show to grow. We also did the normal news and best practices, then interviewed Natty Bumpercar, the winner of our feedback contest a while back and our forthcoming Podcaster of the Month (post to come on that). Enjoy the show!
Thanks for joining us on this episode of Podcast Insider. Looking to be a guest on the show? Let us know.
News
Best Practice: Simpler is sometimes the better choice
Podcasting is an AUDIO format (for the most part) and what your site LOOKS like is not as important as its function. A nice-looking site (but simple) is great.

Function follows form in this case. It's better that it works than if it looks fabulous.

Do not worry about the small stuff.
Show notes will not look as good on the platforms as it does on your site.
Spending a lot of time getting on a particular platform may not be the best use of your time.  Some platforms are not used by many listeners.
It is good to "Be Everywhere" but spending a lot of time for two or three listeners could be time not well spent.
Pick your battles!
Blubrry News
We are in between big releases, but are working behind the scenes tweaking what we have and getting ready for the next BIG update.  Stay tuned!
Blog post:  Become a Headliner by Tara O'Brian
Again, MacKenzie and Aaron are at She Podcasts this weekend. If you are there, go visit them to say HI and get some swag!
Blubrry Pro Tip: Toby has the week off.  
Interview: Natty Bumpercar – The Bumperpodcast
Question(s) of the Week
Question: My podcast host is asking me to leave because I've become too popular. HELP!
Answer:  Come to Blubrry!  (What did you expect us to say?) Blubrry does not kick someone off because they're popular. We want you to GROW your podcast.
If you want to keep track of all your ratings and reviews from every country on Apple Podcasts, Stitcher, Podchaser and Castbox, all in one place . . . check out My Podcast Reviews –  https://mypodcastreviews.com/
______________
Got a question you'd like us to answer on the show? Drop an email to mike@blubrry.com (audio, text, video) and we may use it.
______________
The best place for support with any Blubrry products/services is our ticket system (https://blubrry.com/support/). Tickets give the whole team access rather than direct emails or calls.
______________
Coming at you this week from New Media Studio in southern Michigan and Mike Dell's World Studio in northern Michigan. Produced by the Blubrry Pro-Production team.
Schedule a one-on-one with Todd (hosting customers only). Email todd@blubrry.com
Schedule a tech checkup with Mike (hosting customers only). Email mike@blubrry.com
Send us your podcast sticker and a self-addressed stamped envelope (SASE) and we will send you a Blubrry care package.
Our mailing address is:
Blubrry – MacKenzie
150 E. Campus View Blvd. #180
Columbus, Ohio 43235