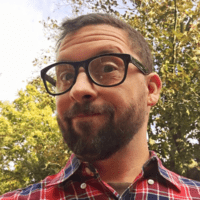 When we released our new podcast publishing Dashboard, we asked for your feedback on the user experience. Hearing from so many of you was instrumental in catching some early bugs and getting fixes in place during the first couple of weeks.
To add some fun to giving feedback, we said we'd select one lucky feedback provider to receive one year of free podcast hosting, our compliments. Well, it was helpful, and it is fun!
Today we're announcing our lucky winner, who is also October's Podcaster of the Month: Natty Bumpercar.
Tell us about yourself!
A little bit about me: I've been doing comedy for almost a million years. I tend to work squeaky clean, and have a bundle of tangential energy. I excel at getting into awkward situations, telling ridiculous stories, and falling in love with kittens that aren't available — emotionally. I've illustrated a children's book, Douglas: A Christmas Tale, produced cartoons, webcomics, my podcast, The Bumperpodcast, — which all live on my website. I've worked in radio, sung in a band, been in films, theater, and commercials. I like to stay busy. I consider myself a maker of things and a doer of stuff.
What inspired you to do your own podcast?
I like to talk. I also enjoy the sound of my own voice — and, that's not entirely ego speaking. I'm an only child, and I managed to get through a bunch of life by cocooning into my imagination. From there, I found a nifty place called Coffee-Can Alley. It's pretty special, and pretty ridiculous. I went to school at the University of Georgia, over in a swell little town known as Athens, and started doing something along the lines of stand-up while also working a few radio shifts at WUOG 90.5 fm. I got a Bachelor in Painting, then a Masters in Painting — where I continued to explore some of the foibles of Coffee-Can Alley. At some point, I started making webcomics, and cartoons — and even got to pitch a show to Cartoon Network! Then, in 2009, I figured out how to make sounds, what an RSS feed was, and started making the Bumperpodcast. It's truly a blast, and my stomach hurts when I don't get a chance to record once per week. I've got a bunch of ideas for other shows, but until I can successfully clone myself, I'm just going to stick with the best idea that I have — the Bumperpodcast.
How do you prepare for an episode?
I wander out to the studio in my barn, affectionately known as the Bumperbarn, get all of the equipment set up and working properly, and then throw some treats to my dogs, Banjo and Popcorn, to try to distract them. It is usually during the wandering that my brain starts fluttering through the roulette wheel of random occurrences and thoughts that may find a place in the episode. Then, I look at the title of the last episode, hope that it sparks some sort of memory in my brain, that may or may not gel in some way with the wander-thoughts, and start recording. After that, it really becomes a blur, based off of a bundle of variables — mostly which of the other characters from the show happen to either stop by, or be available. I must say that once the show starts recording, there are generally no guarantees that the show will end anywhere near where it began. I've heard the words 'train-wreck' and 'off the rails' used repeatedly in reference to the Bumperpodcast — and that's just from my wife and kids …
What advice do you have for someone just starting out?
The most important thing, to me, is to be true to yourself, and do what makes you happy. Don't go into podcasting expecting to become famous or rich or awesome. You're probably already awesome as you are, and those other goals aren't promised to anyone. So, take a deep breath, figure out what you want to do, do some research — if that floats your boat, get your setup established, and then get to it. Don't be afraid to try things out, and have it not work. Trying things is how you learn. Ask yourself a million questions. Don't pigeon-hole yourself. Also, try not to take any advice from bears. Not to bear shame, but — it has always been my experience that they have their own underlying motives that will almost certainly not always line up with what you are trying to do — whatever that is!