General – Mom &… Podcast with Susanne & Missy by Missy Stevens and Susanne Kerns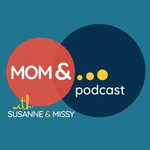 A pair of powerful podcasters and moms, The Mom &… Podcast, focuses on all aspects of life as well as being a mother  — because your story doesn't end with mom. Currently in their third season, they feature expert guests in every episode on a variety of topics such as identity, self love, money, career change and more. Read more to learn about their show and catch them featured on our show, Podcast Insider, later this month.
Thank you Missy and Susanne for being Blubrry's May Podcaster of the Month!
Tell us about yourself
Missy Stevens is a writer, foster child advocate, and podcaster. Her past life includes stints as a corporate community relations manager, and non-profit communications writer. These days, Missy is an aspiring novelist, slowly working on endless revisions of her first manuscript. Her work has been featured in local and national online publications, as well as in the stage production, Listen to Your Mother. Missy, a native Austinite, lives with her husband, two sons, two dogs, and too many plants. Just kidding. There is no such thing as too many plants.
Susanne is a humor writer living in Austin, Texas with her husband and two children. Her work has been featured in Scary Mommy, Redbook, Today Parents and several parenting anthologies. She's currently writing her first non-fiction book. and also runs "Informed Parents of Austin," a group she founded to advocate for LGBTQIA+ students, families and staff in her school district. She spends an unhealthy amount of time on Facebook, but you can also find her on Instagram where she posts her tasteful nudes* (*photos of poorly lit food, and animals, all nude), or on Twitter whenever she accidentally opens the wrong app on her phone.
What inspired you to do your own podcast?
We've attended the Mom2.0 Summit for years, and have met such incredible women who are all creating content, from writing, to social content, to podcasts. When we started thinking about launching podcasts of our own – and ultimately deciding to host one together – it was speakers at Mom2.0 who encouraged us, and inspired us to go for it.
Why is podcasting personal and important to you?
Susanne is writing a book for moms who want to make the most of their maternity leave, whether it's 3 months, 3 years, or – in our cases – many years. As she was researching her book, she realized that a podcast would the perfect vehicle for interviewing experts. Missy is an aspiring women's fiction writer with a special interest in stories about women who pivot or evolve in interesting ways. Together, we love talking to career coaches, life coaches, and women are doing amazing things in their ellipses, the … that comes after Mom. We're all moms and so much more!
How do you prepare for an episode?
We start by reading any books or publications by our guests. Then, we do a little bit of internet stalking to check out their social profiles, and get to know them that way. We discuss potential questions, and send our guest a list of topics and questions, too. We write outlines for each episode, even though we tend to let the conversation develop organically. The best stuff is almost always something that comes up as we chat.
What advice do you have for someone just starting out?
Do your homework, but don't dwell on it. What we mean is, learn about podcasting and make sure you have the equipment you need, a hosting site (like, oh, Blubrry), design your logo, website, and branding, etc. Make sure you can get the social handles you want. But then: do the thing. We both tend to let perfect be the enemy of good, and often that means we wait so long that we end up talking ourselves out of whatever it is we want to do. With the podcast, however, we went for it and launched within a few weeks of deciding to the show. It was the best decision, and we've had so much fun making the Mom &… Podcast.
---
Connect with Susanne & Missy
We hope everyone had a wonderful Mother's Day this past Sunday.