Blubrry is expanding its statistics package to give Blubrry podcasters more actionable information.
Learn more about your podcast audience with our new data points, Estimated Audience, and Episode Comparison. Available for Advanced Hosting podcasters and above, you'll find these new charts within your podcast statistics section.
Estimated Audience gives insights into the audience that falls into Listeners and Subscribers/Followers. You can download or stream a podcast on your own, but there are also dedicated audience members who are automatically receiving your episodes.
Episode Comparison makes it incredibly easy to see the audience's progress per episode. You can compare episodes to one another to see not only which episodes performed best but how fast as well.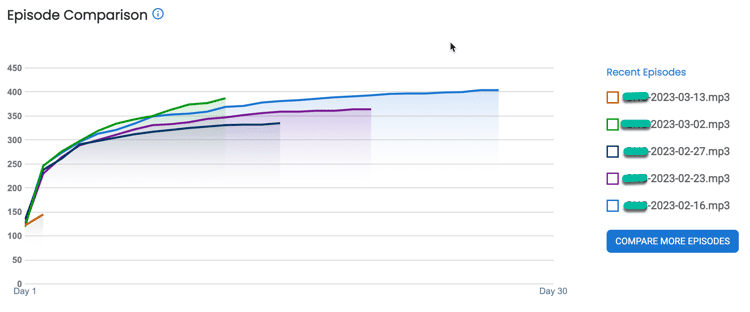 A more detailed look at how your audience engages with your show can lead to decisions on how you promote your show. We've often been asked for details about how many people are subscribed to your podcast – and now we're happy to provide our detailed estimate.
The Episode Comparison metric is a welcomed tool for those who want details on specific episode success and those who wish to review how many people are listening over a short period, such as episode pacing, allowing you to see which episodes engage the most.
We're excited to release these new numbers for our podcasters' charts and graphs that anyone can understand. If you'd like these new metrics and aren't seeing them, they are available to all on any Advanced Hosting plan.
To learn more about these new features, review our podcast statistics page. As always, if you have any questions, don't hesitate to contact our support team, which is available seven days a week.