Podcast: Play in new window | Download (Duration: 29:52 — 41.0MB) | Embed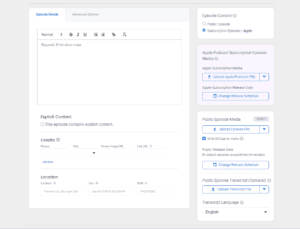 Our first big release of the year was working with Apple. We now integrate with Apple Podcast Subscription shows for easy publishing directly from the Blubrry platform.
Anyone producing a premium subscription based Apple Podcast can now publish their premium episodes directly through our platform and we're very excited about it. Tune in to hear more on that feature as well as some cools tools in Slack and for Podcasting 2.0.
Thanks for joining us on this episode of Podcast Insider. Looking to be a guest on the show? Let us know. Emails are listed at the bottom of show notes.
News
Best Practice
Reach out to be a guest on your favorite podcast! We don't mean your favorite podcast that is not relevant to insights or expertise that you can provide, but you should reach out to be a guest on a show you're familiar with for a meaningful conversation.
Blubrry News
Lots of Podcasting 2.0 features are now in the Blubrry publisher. Learn more here and here.

Location

Transcripts

Chapters

Person

Live Item

TXT

Podping

Value (V4V) Coming very soon

PowerPress will be updated with the same tags very soon

Todd will be keynote speaking at Podfest Expo in Orlando Thursday and Friday –   If you are in the area, we have some expo-only passes available. Reach out to MacKenzie.

Todd will also speak at Podcast Movement Evolutions in Las Vegas in March.
Blubrry Pro Tip
First Impressions Artwork
Question of the Week
Question:I use an AudioTechnica ATH-M50 headset for my podcasting, but I need to buy three more pairs for guests, and I don't want to spend $200 on each pair. Can you recommend a "decent" headphone option that sounds neutral and easy to listen to for long periods of time that's under $100?
Answer: (Mike)I have a set of Sony MDR 7506 headphones that I like a lot. They are around $80 and seem tough as well. At least I haven't broken them yet 🙂  (Todd) You could likely go cheaper than that for guests. As long as they can hear you and the headphones are comfortable, it shouldn't be an issue.
---
Got a question you'd like us to answer on the show? Drop an email to mike@blubrry.com (audio, text, video) and we may use it. You can also post a question on the Blubrry Podcasting Facebook group.
The best place for support with any Blubrry product or service is our ticket system (https://blubrry.com/support/). Tickets give the whole team access rather than direct emails or calls.
Coming to you this week from The New Media Production studio in Coldwater, Michigan & Mike Dell's World Studio in Traverse City, Michigan. Produced by the Blubrry Pro-Production team.
Fill out our listener survey at surveys.blubrry.com/podcastinsider
Schedule a one-on-one with Todd (hosting customers only). Email todd@blubrry.com

Schedule a tech checkup with Mike (hosting customers only). Email mike@blubrry.com

Send us your podcast sticker and a self-addressed stamped envelope (SASE) and we will send you a Blubrry care package.
Our mailing address:
Blubrry – MacKenzie
150 E. Campus View Blvd. #180
Columbus, Ohio 43235