Hobbies and Gaming – The Food Garden Life Show by Emma and Steven Biggs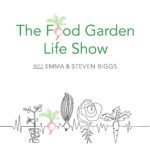 Steve and Emma, a father – daughter duo from Toronto host a 'podcast that brings together gardening, food and the human story'. We are excited to feature them and love being able to share their unique story. Continue reading to learn more about why they got started and how they make it work as a podcasting team.
Thank you Emma and Steve for being Blubrry's November Podcaster of the Month!
Tell us about yourself!
We're a daughter-father duo. Emma is a 17-year-old high school student. She's also a published author and speaker who is crazy about growing tomatoes. (She grows 100 tomato varieties in our Toronto yard, and runs her own seed business.) Steven is a horticultural veteran who teaches and writes about food production. He's trained as a horticulturist, but branched out into farm and garden communications as a way to spend more time raising kids. From a young age, Emma was around helping as he spoke and sold books at gardening events. It must have rubbed off, because we began presenting together when Emma was 10 years old. We started with the local speaking circuit, doing small events, and that grew to include everything from neighbourhood library events to national gardening shows. We have written two kids gardening books together. The most recent is Gardening with Emma.
What inspired you to do your own podcast?
We started our podcast when schools shut down during the COVID pandemic. We were both stuck at home. And were both missing all of our favourite gardening shows, events, and friends. So we decided we'd reach out to the world through podcasting. It's been a fun ride! In 2022 we received the Landscape Ontario Garden Communicator Award for the podcast. 
How do you prepare for an episode?
Our show is interview-based, so preparation starts by finding interesting guests. We meet them through our industry connections, social media, and online searches.
When it comes to interviews, we map out ideas that we want to cover – but we don't follow a script. If the interview is tightly scripted, there's less chance our guests will take us somewhere unexpected and fun.
Right before we make the call (or Zoom) we put up a sign that says "smile." A big part of a podcast is sending great energy out to the world with our voices, and smiling helps us do that.
What advice do you have for someone just starting out?
Systematize everything so you don't have to recreate the wheel every time you make an episode. Have an SOP. Have templates.
And then invest time in mastering your own voice. To start, learn how to convey enthusiasm, figure out when to pause, and ditch annoying verbal ticks ("um," "and stuff").
Connect with Emma and Steve…