Creating a Brand For Your Podcast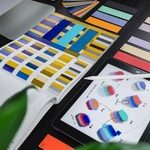 A podcast with amazing content can easily be overlooked if you don't have and eye-catching brand. Establishing a brand for your podcast is an important part of podcast audience growth and eventual monetization. Do you know how to create a memorable brand? Or what branding might entail? Keep reading.
Some of What Branding Entails
Artwork: People say not to judge a book by its cover, but they do. Make sure you're not losing people because of bland artwork. If you're not comfortable creating an amazing logo, hire it out. And don't forget to follow the directory requirements.
Social media presence: Will you be adding this to your current social or creating a podcast identity? Don't feel the need to be active on all social channels. Consistently participating in one or two platforms is more useful than random interactions on multiple platforms.
Directories: Be found everywhere;

submit correctly to each directory

. Blubrry can help you make sure you're following all of the requirements.
Website: Create a homebase. A Blubrry tried and true. A solid website for your podcast, blog posts, links to social, other content, etc. will help you establish yourself online.

We provide a WordPress website with all hosting

, but you're able to use any website you're comfortable with.
Guidelines: Things like colors, logos, fonts, etc. How are you presenting yourself online?
Creating a brand for your podcast is more than just the minute work. Here are things to keep in mind when creating and executing your new brand.
Embellish a Bit
Fake it 'til you make it, right? There is a certain amount of anxiety and uncertainty that comes with establishing a brand and marketing strategy for your podcast, especially if you're just starting out. If you're feeling overwhelmed, master the combination of faking it and humorously sharing your pitfalls so far. People like to relate to others and encourage you; however, a bad attitude and woe-is-me attitude can burn your followers out.
Bring in a Second Opinion
No one is the best at everything, which means that a second pair of eyes is always beneficial before you release something or make a final decision. This really comes back to the finer details mentioned above. A trusted friend, colleague, etc. can provide feedback that you can either accept or reject. Either way, projects are always easier when you aren't going it alone.
Stand Out in the Crowd
If there are several podcasts similar to yours (and you should know if you've done your research) then you need to establish how you'll be able to stand out above the rest. Offer something that others aren't, but remember that content is king. Why will you be memorable compared to the other shows similar to yours? 
Provide Value
You can have the most amazing marketing and branding around, but if your content doesn't provide actual value, you'll find yourself having a hard time building a loyal audience. Demonstrate your high standards and then stick to them. A consistent host is a reliable host. Everyone wants to create a podcast to partake in a community, and you are responsible as the host for setting the tone.
In a world of around 4 million podcasts, we want you to be proud of yours. If you're ready to start your podcast or make a major change to the one you already have, follow these steps and as always, reach out to Blubrry for any issues you may run into.