Fiction/Non-fiction — PenDust Radio by Lisa Duff
The path to podcasting varies, and some people have always been a bit ahead of the curve. Lisa Duff has been working on media for close to two decades now and is Blubrry's September Podcaster of the Month for her show PenDust Radio Podcast.
Thank you Lisa for joining us this month!
Tell us about yourself!
I started in film, not audio. I attended NYU film school and, after graduating, worked as a film and video editor. I eventually transitioned to audio when I got the first iPod and discovered how amazing audiobooks were (I think there were less than 5,000 audiobooks at that time). In 2006, due to my passion for audiobooks, I started Wetware Media, a non-fiction audiobook publishing company. We've published over 150 audiobooks, several of which have become Audible best-sellers.
It was an unusual career choice back then. When people would ask the inevitable question, "What do you do?" at social gatherings, I would respond that I was an audiobook publisher. They would typically look at me quizzically and say, "Oh… what's that?" Now people respond by telling me what they've enjoyed listening to recently. Times have changed!
What inspired you to do your own podcast?
While I enjoy publishing longer formats, I also wanted to explore publishing shorter content. Sometimes you want a short "story snack" while you drive to the store or do a workout. So I started PenDust Radio to share compelling short stories (both fiction and non-fiction). It started as an experiment, but the response has been extremely positive, so we're excited to keep the show going.
How do you prepare for an episode?
The first thing we do is select the stories we want to share on the podcast, which sounds easier than it is. PenDust Radio gets lots of submissions and we have to read many stories to find the gems worth publishing — that is the most challenging and time-consuming part of the process. Since I've been in the audio biz for many years, I have a pool of fabulous professional narrators I've worked with over the years. So I decide which narrator is best for each story, and we work with them to record it. We always produce several episodes at once — it's much more efficient that way.
What advice do you have for someone just starting out?
I know it's trendy to do the typical "host-interviews-guest" podcast format, but not every podcast has to follow that setup. High-quality content comes in many forms — think outside the box!
What's coming up next that you are excited about?
We recently started planning a few serial podcasts — stories that really hook you, published over several episodes. It's still relatively short content compared to the audiobook format, but it allows us to tell more complex and suspenseful stories. So we're excited about moving in that direction!
Connect with Lisa…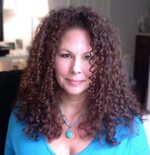 Website
Podcast listing
Facebook
Twitter
Interested in being podcaster of the month? Email MacKenzie@Blubrry.com to get started.