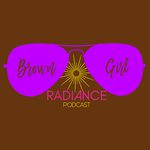 Podcaster of the Month: Culture
Brown Girl Radiance – LaJoy Mercer
It was an absolute pleasure meeting LaJoy Mercer at Podcast Movement this year, and we're excited to have her be the August Podcaster of the Month. Her interview exudes her love of podcasting and of her show, Brown Girl Radiance. Catch her later this week as a guest on our show, Podcast Insider, and hear all about her motivation and why her show is so important to not only her, but her community.
Thank you LaJoy or joining us this month!
Tell us about yourself!
I am originally from Nashville, Tennessee. I came to Florida because I had a presidential scholarship to Florida A&M University (FAMU) to attend their illustrious School of Business and Industry.  FAMU is one of the top HBCUs  (Historically Black Colleges and Universities). I have an incredible community and network that I have gained from such a life changing experience. I stayed in Florida because when I finished graduate school I completed an internship that led to a career, and here I am over 15 years later! I'm a proud aunt of three (one girl and two boys) and a lover of Jesus Christ. I walk a 5K at least five days a week, love bike riding, Peanut M&Ms, basketball, Chuck Taylors and I have a healthy obsession with the Black Panther movie. I saw it 20+ times in theaters and it inspired the first season of my podcast so I was able to use my passion for the franchise in a productive way. I love Black culture and I am constantly inspired by Black excellence. In December of 2020, I created a 'Vision List' of guests who I would like to interview on the podcast in the future.
What inspired you to do your own podcast?
I woke up on Monday, March 12, 2018, and I heard the Lord say as clear as day 'Podcasting.' I had only listened to one or two podcast episodes up to that point, so I knew it was not me, it was God. I literally sat up in my bed and Googled, "How to start a podcast." I started doing a lot of research including listening to podcasts to understand different formats of shows. And then I took free classes from the local library about the fundamentals of audio engineering to learn more about recording and the library had a sound booth where I could record for free.
In terms of a subject for the podcast, during my first season I was inspired by the beauty, intellect and strength displayed by the women of Wakanda after viewing the Black Panther film multiple times. I invited seven women throughout the season for extensive discussions about the themes that were presented in the movie. When I was thinking of a name for the podcast, I realized that while I was initially inspired by the women I saw in the film; I am inspired by Black women every day and that is why I decided to name it Brown Girl Radiance. It celebrates the brilliance of women of color. This podcast provides a forum where Black and Brown women can share their stories and experiences, offer insights about their journey and inspire others with their passion. During my second season I hosted the Michelle Obama "Becoming" Book Club and during my third and most recent season I did a celebration of "Brown Girls Abroad." I interviewed women who are missionaries, expats, globetrotters, nomads and citizens of the world.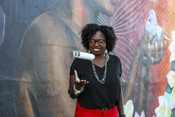 Psalm 34:5 states that "Those who look to Him for help will be radiant with joy!" My prayer is that every episode of this podcast will fill the listeners with "radiant joy!"
How do you prepare for an episode? 
On the days I am recording, I am mindful of everything I consume in terms of food and all forms of media. I try to keep my heart and mind clear so that I can be fully present for the interview. I usually try to limit my time talking on the phone and texting so that I can give my energy to the episode, which means recording on my days off is ideal, but occasionally I record in the evenings after work.
I always pray and spend time in moments of quietness and stillness so that I can be spiritually led on who to invite on the show and what questions to ask.  For me this process can happen at any moment in the day, either early in the morning, late at night or the middle of the day.  When I carve out the time to focus on my interviews, I get into 'the zone.' I always want my guests to feel like we are two old friends chatting over brunch, lunch or dinner and I think that the connection and positive energy comes through for the listener. I have also done bonus devotional episodes, which require a lot of time in prayer. Additionally, I have interviewed my 7-year-old niece twice on the show, her first time she was only 4 years old. When you interview a child, you never know what you are going to get so you have to go with it. Like any interview, you can prepare your questions and then let the conversation flow naturally. During the summer of 2020 I recorded two really fun episodes with a panel of three other women called "The Queens and Kings of Quarantine" to bring some levity to such a heavy time in our world.
What advice do you have for someone just starting out?
Whenever someone tells me they want to start a podcast, I tell them that one thing I love about podcasting: there is room for everyone and your unique voice matters. It's easy to get caught up in the branding, equipment, downloads etc. so my advice is that when you have the inspiration and know what you want to say, just hit record. That way you are already creating your content. 
If you don't have a microphone yet, record on your phone. While I had the name for my podcast, I did not have the logo or anything when I first started interviewing guests. I knew I wanted to capture honest conversations so I started recording in the sound booth at the library for free from May to August of 2018 and started releasing episodes in September. When I first started recording I had a vision of how I wanted things to be and I knew I needed to capture the content and then everything else would fall into place, and it did.
Tell us about your Podcast Movement experience. First time? Good sessions? Etc.
This was my second time attending Podcast Movement, having gone to Orlando in 2019. One of the reasons I wanted to attend the conference at that time was to learn more about remote recording because I was using the free sound booth at the library. In one session they highly recommended Zoom, so in December of 2019 I recorded my first episode over Zoom and then of course by the end of March 2020 everyone was using Zoom so I am glad my podcast journey got me ahead of the learning curve.
This year I went to some really powerful sessions, for example hearing the podcast statistics presented by Matriarch Digital Media, attending the women in technology panel and seeing one of my dream guests, Jill Scott, on a panel. But what I enjoyed most about attending Podcast Movement 2021 was being inspired by other podcasters. There is a certain energy that we have when we are together. The beautiful late icon, Cicely Tyson said, "I am the dreamer of audacious dreams." When I am surrounded by other podcasters, I feel like I am among "audacious dreamers" who encourage and challenge me to keep improving at this craft and stay on this unique journey of delivering content to people all over the world. I literally have listeners on every continent and I consider it an honor anytime someone chooses to take precious time out of their day to listen to an episode. It is a special community and I am blessed to be a part of it.
Connect with LaJoy and BGRP…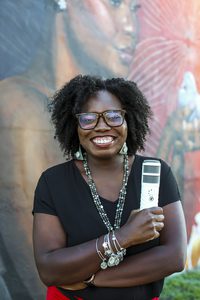 Interested in being podcaster of the month? Email MacKenzie@Blubrry.com to get started.