Podcast: Play in new window | Download (Duration: 24:40 — 33.9MB) | Embed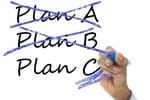 After you've been producing your show for a while you might yourself wondering, how can you simplify your podcast. Over the years we've had varying levels of production style and steps in our podcast routine, but in the end we tend to think, the simpler the better. Learn how to simplify your podcast routine in our Best Practice portion of the episode.
Thanks for joining us on this episode of Podcast Insider. Looking to be a guest on the show? Let us know.
Recorded live from two well-separated and socially distanced podcast studios in northern and southern Michigan; here's Podcast Insider.
News:
Best Practice: Simplify your podcast
The easier you make your podcasting routine, the more likely you are to stick with it.
Make posts on your website easy to manage. No need for fancy-looking things that only slow your website and slow posting or publishing.

Keep your recording setup as simple as you can; at the least, easy to operate.


Removing extra steps can save time and make you more focused on your content instead of your tech.
Blubrry News:
Question(s) of the Week 
Question: My podcast is broken. Can you fix it for me?
Answer: Maybe, but I am going to need a LOT more information.
I get variations of this question several times daily. The contact does not include the name of their podcast, what is "broken" specifically, their account email (they of course can't use their account email to make contact) or any other information about their podcast or their problem. Help us help you!
Tell us what the problem is

Give us specific questions

Include the RSS feed address you're using


Provide the account email address for Blubrry
______________
If you have a question you would like us to answer on the show, drop an email to mike@blubrry.com  (Audio or text or even video if you want) and we may use it on the show.
The best place for support with any Blubrry products/services is our ticket system (https://blubrry.com/support/)  Sending a ticket gives the whole team access to the question rather than direct emails or direct phone calls.
______________
Be sure to subscribe to the unofficial companion show to this one, Podcast Help Desk where Mike goes a little deeper into the geeky and techy side of podcasting. 
This week, I plan to air my top 11 (was 10) podcasting grievances. Last week the episode was delayed for a reason that is now number 11 on my list.
https://www.podcasthelpdesk.com
______________
Promo code INSIDER for a free month at Blubrry.com
Coming at you this week from Blubrry Studios in northern and southern Michigan. Produced by the Blubrry Pro-Production team.
Schedule a one-on-one with Todd (hosting customers only). Email 

todd@blubrry.com

Schedule a tech checkup with Mike (hosting customers only). Email 

mike@blubrry.com

Send us your podcast sticker and a self-address stamped envelope (SASE) and we will send you a Blubrry care package.
Our mailing address is:
Blubrry – MacKenzie
150 E. Campus View Blvd. #180
Columbus, Ohio 43235