Focus on Features is an ongoing series that explores the catalog of tools/services offered by Blubrry.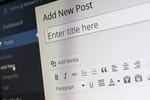 Blubrry might be best known for our PowerPress plugin for WordPress. PowerPress can be used with almost any type of WordPress installation, and comes preinstalled with Blubrry WordPress Hosting. Didn't know Blubrry provides WordPress hosting? Read on to learn more.
What it is: Blubrry WordPress Hosting provides all Blubrry Media Hosting subscribers with a WordPress installation that's fully hosted and managed by Blubrry. That means things like site maintenance and updates are automatically handled by Blubrry.
How it works: Sign up for a Blubrry Media Hosting subscription and you'll have the option to create a Blubrry WordPress site right from your Blubrry dashboard. There are two tiers of Blubrry WordPress Hosting: Standard and Advanced. Each tier offers different sets of plugins, themes, and services. Basic sites are a great place to start. You can upgrade to Deluxe at any time.
What it isn't: Blubrry WordPress Sites aren't the same as typical self-hosted WordPress sites. Blubrry WordPress sites include fixed sets of themes and plugins; no other themes or plugins can be installed. Blubrry has handpicked these specific themes and plugins as they provide excellent functionality for podcasters, no matter where they are on their podcasting journeys.
From the beginning, Blubrry has believed that podcasters should have websites. Blubrry WordPress Sites was designed with that in mind. Sign up for Blubrry Media Hosting today and get started with your own Blubrry WordPress site!