Dave Graveline Experiences the Blubrry Way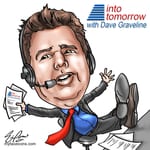 Radio and podcasting have been intertwining since podcasting began in 2004. It's an advantageous position to be in live radio, and then to publish the recordings afterward as a podcast. The best of both worlds, as people say. Dave Graveline, of Into Tomorrow with Dave Graveline, is the perfect example.
His three-hour weekly show airs on the Advanced Radio Network. Focusing on all things consumer tech, he includes guests, reviews, and insightful opinions on things that are available today… and into tomorrow.
At Blubrry Podcasting, we're lucky to have Dave recently join our podcast community. Before moving to Blubrry, Dave was self-hosting his podcast, not uncommon in the industry, but not recommended either. He had been notified that his website — the lifeblood of the show — was going to be kicked offline, soon, due to overuse of his web hosting. That's where Blubrry came in.
"Covering Consumer Tech on the air on almost 100 AM and FM radio stations for 26 years now, we've seen a lot of technology changes," Dave said. "One of the changes we didn't anticipate was being told that our domain servers 'have way too much traffic.' Whaaaat? Isn't that a GOOD thing?
"Well, we learned the hard way that 'too much traffic' can cost us a fortune – even though it means sooo many are now subscribing and following our podcasts," he said. 
We don't want to say Dave came to us in a panic but isn't that how any podcaster would feel? A podcaster's panic is where our cool, calm and collected team comes in — to solve problems. Within hours we were able to get his entire back catalog of episodes migrated to Blubrry hosting and set up to integrate with his WordPress website through PowerPress.
"We managed to connect with Blubrry CEO Todd Cochrane, along with Mike Dell and Jeff Levine, who immediately indicated that they WANT our heavy traffic," Dave said. "It was a match made in Tech Heaven!"
Dave is now continuing his show without worry that someone can make it unavailable. Yes, anyone can use Blubrry podcast media hosting and get an RSS feed from us and be on their way to publishing immediately. But there is a reason we recommend the WordPress / PowerPress / Blubrry Podcast Hosting combination. At the end of the day, we want podcasters to own their content and IP through and through.
"Interestingly enough, we've been doing podcasts, long before they were even called 'podcasts!," Dave explained. "I'm really dating myself when I share that we were using RealAudio files from our very first broadcast 26 years ago, so our audience – especially where we have no Affiliate Radio Station or the affiliate is unable to carry all three hours each week — can access the content. And now with our new relationship with Blubrry, we don't have to worry about anything. Whether it be 'too much traffic,' customer support, ad insertion, podcast stats, PowerPress Plugin, podcast hosting … whatever may ever be needed, Blubrry has us covered."
The Blubrry Way is not a ploy for us to gain more hosting customers; it's our way of imploring podcasters — or creators of any kind for that matter — to be in control of their show. That includes branding, intellectual property, music, artwork, even something as minute as logins and passwords.
"Their team has been amazing and we're thrilled to work with them, today and … 'Into Tomorrow'!"
Be the captain of your own ship, and do it with tools and services that support you. We are grateful to have Dave join us, and encourage all podcasters to consider what is best for their show.