The Joys of Binge Reading – Jenny Wheeler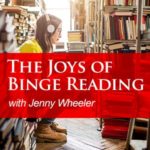 This month we're featuring another Blubrry podcaster, but also someone who reached out to the Blubrry team. She pitched her show stating that '150 episodes in, I have heaps' to talk about, and she meant it. Read below to learn about her start, all about her show and why she enjoys podcasting so much.
Thanks to Jenny for joining us this month.
Tell us about yourself!
I am a former newspaper and magazine editor in Auckland, New Zealand, who had a comprehensive career in print journalism; and then ran my own direct marketing health products business before selling it and moving on to full time fiction and podcasting. Writing fiction had been something at the back of my mind for 20 years that I had just "never found time to do." Once I sold my business, I had the time and freedom to do it. Podcasting is an important adjunct to help build an "author platform."
What inspired you to do your own podcast?
When I looked into what was involved in book marketing I understood quickly I needed an author platform. I had done a lot of blogging in my business, and after nearly 1,000 blog posts in the previous few years, I had run out of steam.
So I turned to what I saw as the second option – an author podcast. I discovered there were lots of podcasts giving writing advice for authors and a lot more 'literary' podcasts, which took themselves rather seriously and didn't sound as if they were having much fun.  
I wanted to do a podcast for readers of genre fiction, which is what I write and what I was passionate about. Binge watching was taking off on Netflix and other streaming services, and there was discussion about how reading habits were influenced by binge reading experiences: the idea that if you finish a book at midnight you can buy the next in the series immediately online. You don't even have to wait until the next day to go to a shop or library to find. So, I decided to interview authors of series genre fiction… basically mysteries, thrillers, historicals and wholesome romance. I leave sci-fi and fantasy alone because they are specialist areas that have their own podcasts.
All of our episodes are found online in a show notes blog that makes for great, evergreen content.
How do you prepare for an episode?
I read the author's most recent book, I always try to focus on their newest release and help promote it. And I also do wider research on the author themselves for ideas of their career trajectory and personal biography. I send them a set of questions a few days before the interview so they feel comfortable and prepared, but I always emphasize that it's a spontaneous chat; I don't want them writing down their answers and reading them and thankfully no one has tried to do that.
What advice do you have for someone just starting out?
Be prepared for a long haul – I committed to completing 50 episodes (weekly) as my first goal because I read somewhere of an author I admired who said she wouldn't agree to go on any podcast that was fewer than 50 episodes. 
When I got to 50, the next 50 seemed more attainable. I'm now well over 150 episodes, and my experience of the show has changed. It has become a vital part of my own social networking — meeting new authors and learning something new from every one of them. It's a great opportunity to talk to people who are passionate about the same things I am, which doesn't really happen in any other part of my life. And I hope I'm fulfilling my mission to introduce readers to books "they won't want to put down."
And the other piece of advice I'd have is: Be prepared for the technology to keep changing on you and for failing semi-regularly so you have to be prepared and adaptable!!! Over the period I've been doing podcasts I've moved from using Skype and Audacity to Zoom and Descript for example. And from manual transcribing to AI.
Connect with Jenny…
Thanks Jenny for joining us this month. Look out for more of these corresponding to our monthly newsletter. If you'd like to suggest topics, feel free!