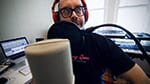 If you're looking for a podcast with a long back catalog, and you enjoy learning from activists of all types of communities and industries, you've come to the right place. This month we're focused on Arts, and Michael Harren handles this on a grand-scale.
MikeyPod – Michael Harren
Tell us about yourself!

I'm a Brooklyn, N.Y.-based composer/performer/storyteller/podcaster/activist, among other things! I just celebrated the 15th anniversary of my podcast, MikeyPod, which features conversations with fellow activist artists about how they use their art to change the world. 
What inspired you to do your own podcast?

Back in 2005 my LiveJournal (remember that anyone??) friend Madge Weinstein introduced me to podcasting through her show, Yeast Radio. As a big fan of music and independent art, I was really excited by the possibility to reach people with a homemade radio show that I could distribute myself. I was nervous about not having anything to say, or not being able to do a good job, but after some encouragement from Madge I finally went for it and I am so glad I did.
MikeyPod has changed quite a bit over the years, I even spent some time living at Koinonia Farm, an intentional community in Georgia that is steeped in civil rights history. I documented my experience and told the history of the place with interviews on my podcast. I toured the West Coast a couple summers ago performing and volunteering at animal sanctuaries — all documented on my podcast as well. In many ways, having the podcast inspired me to take changes in my life that I might not have before. It's a big part of the influence that inspired me to move to NYC from Texas!
How do you prepare for an episode?

Now that I do interviews every week, preparation happens in a couple of phases. I've been lucky enough to come across guests fairly easily through my own creative work, but before each interview I spend some time diving into the person's creative work and coming up with questions and conversation points. Then there's the conversation itself which typically happens over Skype. If there is music I want to feature on the show, I spend time getting permission from the artist. Other than that, I usually do a pretty sparse edit to tighten things up and then publish.
What advice do you have for someone just starting out?

I would say to just turn on the mic and get to work! I am really happy to have done that. My first episodes were pretty rough, but I just feel nostalgia for those early days of podcasting when I listen back. Instead of worrying about becoming the next  super-polished podcasting mega-hit, tap into your own creativity and sense of adventure. Whether you have 10 listeners or 10 thousand, your unique voice matters.
The other thing I would suggest is staking your claim on your own place on the internet from the get-go. I am so glad I started out with my own URL and website back in the day, and I think it's a signal to yourself and the world that you are committed to doing this thing. I would be remiss if I didn't also mention the magic of the PowerPress Plugin (which I have been using since its release) and hosting with Blubrry! I feel a unique sense of community with Blubrry, and consider them real champions for independent podcasters like me.
Connect with Michael here…
Michael has been a fantastic addition to the Blubrry Podcast community all these years, we're happy to include here. Check in next month for a new topic and podcaster. If you'd like to suggest or be a guest, send em our way!