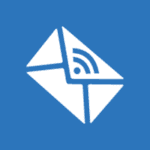 Welcome to a new series of articles from the Blubrry Support Team called Focus on Features. In this series, we'll provide overviews of different tools and services provided by Blubrry. For the premier installment, we're looking at Blubrry's Subscribe by Email service.
What it is: Subscribe by Email is a free service that can be used by anyone. The only requirement is that your podcast have a working, publicly available podcast RSS feed. Your audience can then opt in to receive notifications via email each time you publish a new episode.
How it works: To begin using Subscribe by Email, copy and paste your show's podcast RSS feed URL into the corresponding field on the Subscribe by Email homepage and click the Subscribe by Email button. You'll then be taken to your show's dedicated Subscribe by Email page. Use the tools at the bottom of this page to link to your show's Subscribe by Email from your show notes and/or your podcast website. This is the place your listeners will be able to sign up for email notifications from your show.
What it isn't: Subscribe by Email is designed to give your audience the lowest barrier to entry for subscribing to your podcast. It is not meant to be used as an email address collection tool or newsletter signup service. In order to comply with privacy regulations, Blubrry does not share the addresses of those who choose to subscribe via Subscribe by Email with podcasters or anyone else. If you'd like to collect email addresses from your audience, you'll need to use a different service that's specifically dedicated to that.
Podcasters are always looking for more ways to expand their audience. Converting new listeners into subscribers is crucial to that process. Blubrry's Subscribe by Email provides one more option to all podcasters looking to do just that.