Each month we're going to be featuring a Blubrry podcaster, with some sort of theme. This time around to kick it off we focused on education! Thanks to Allanté for chatting with us.
Tell us about yourself!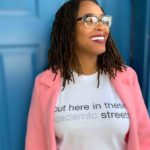 First things first, I'm a proud Detroit native and HBCU Grad. I'm now pursuing a joint Ph.D. in Civil Engineering and Engineering and Public Policy at Carnegie Mellon University. My research focuses on uncovering the environmental and social implications of autonomous vehicle technology. Fun fact: My name is a car (late 80's Cadillac convertible), I'm from the Motor City, and I now study cars, haha! When I'm not studying or podcasting you can find me traveling (pre-COVID), sipping mimosas at brunch, or listening to podcasts.
What inspired you to do your own podcast?
It started with a wish: someone telling me what grad school is really like. It's well known that graduate school is hard, but there are layers to navigating academia as a woman and a Black woman at that (just see #BlackintheIvory on Twitter). So I created what I wish existed. I recorded my first episode in my apartment after I finished orientation for my Ph.D. and now I've shared over 100 stories. I've also created a virtual summit for incoming grad students of color called The Grad School Success Summit — this year's summit had nearly 1,000 attendees — I was accepted to host a podcast episode at this year's SXSW EDU, I've won podcast pitch contests, and even cracked top 100 education podcasts on Apple Podcasts. So much good has come out of this podcast.
How do you prepare for an episode?
The objective of every episode is honest, authentic storytelling followed by some actionable advice. I jot some notes on the topic of the day and try to give an update into my life. The only real segment I have is called "Lessons from the Trap" where I pull advice and motivation from rap songs. This is probably where I spend the most creative energy, finding songs and the lyrics that are insightful. It's fun for me and definitely a listener favorite. When I interview guests my process is more polished but the objective is alI the same.
What advice do you have for someone just starting out?
Quite a few folks reach out to me and I always offer the same two pieces of advice.
First, record 10 episodes before you release anything. That way you'll know if you actually like podcasting as a medium and you'll have a stockpile of content to start.
Second, consistency is key to growth. Podcasting is definitely a long game if you're picking a niche topic/demographic like mine, but I've experienced a lot of success because I've consistently released a weekly podcast for almost three years now.
Connect with Allanté
Thanks Allanté so much for being our first Podcaster of the Month. Look out for more of these corresponding to our monthly newsletter. If you'd like to suggest topics, feel free!