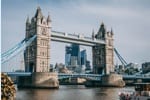 Meet team-member Toby, who loves podcasting and playing the drums
Odds are you did not create your podcast because you wanted something to upload.
Chances are that your podcasting dreams are not built upon your show-note writing ability.
However, those tasks (along with a thousand others) are required for successful podcast production. You may think that it is best to just perform all of those necessary tasks yourself, but you also can choose to hire someone to take care of the technology. Doing so will allow you to focus on your content creation, the heart of your podcast dream.
It's understandable to be hesitant to hand over your proverbial 'baby' to a stranger for professional podcast services. To calm your fears about hiring a professional podcast producer, the following is a brief introduction to Toby Goodman, a producer with Blubrry's Pro-Production Solutions.
Toby lives in Greater London, England. 

His family is his motivation. 

Outside of his family, his two major passions are playing drums and podcasting. He has been talented and fortunate enough to play percussion professionally in more than 25 countries. 

His initial interest in podcasting grew out of the audio production skills he developed while playing music. 

His deep belief in the power of podcasting grew as more and more people he helped grew their podcasts into life-changing endeavors. 

When asked to describe what he does, Toby said, "

I help people create and harness the full power of podcasts."
Of course, Blubrry's Professional Podcast Production team is not just Toby. Our team is made up of radio industry veterans and podcasting experts. We have audio engineers, tech staff, and writers completely obsessed with what they do (that's a trait of everyone that works for Blubrry – from the top, down). If you want someone who will be consumed by making your project its best, look no further. 
With this formal introduction to Toby and the team out of the way, hopefully, you will be more comfortable with a podcast professional working on the technical parts of your show. Doing so will allow you more time to chase your podcasting dream!
Feel free to explore Blubrry's Professional Podcast Production services or reach out to one of our team at prohelp@blubrrypro.com.