Advances reflect new tools for users plus Podcasting 2.0 access for those hosting on other platforms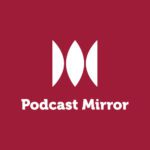 We're proud to announce inclusive new features to our Podcast Mirror service. Now, in addition to replicating your feed to ensure consistent performance, Podcast Mirror works with any and all hosts, offers enhanced security, handles large numbers of episodes and – the most exciting news for non-hosting customers – enables all podcasters to benefit from Podcasting 2.0 features despite using non-certified podcast hosting services.
It's rare to run into speed problems with your podcast feed, but when it does happen Podcast Mirror backs you up. The service replicates your podcast RSS feed to keep it running smoothly allowing you to also change podcast hosts at will. And it's now available to all podcasters.
Podcasters benefit from Podcast Mirror's added functionality that incorporates the Podcasting 2.0 evolution, offering key features to those who host on antiquated platforms that have yet to implement these groundbreaking new features. Podcast Mirror improves and modernizes your podcast feeds to best serve audiences and take advantage of many new features many hosts do not provide.
Blubrry Hosting customers will continue to be able to use Podcast Mirror for free and non-hosting customers can upgrade to an annual subscription. Current non-hosting users will get an introductory $50 annual subscription, a savings of $10 for the first year, and pay $60 per each year after.
Podcast Mirror provides super-fast performance speed and reliability, regardless of your web traffic or any technical issues. It's simple: we mirror (copy) your podcast RSS feed, creating a fully working feed that guarantees podcast syndication. No more worrying about RSS traffic, excessive web-hosting costs and more.
Podcast Mirror features
Podcasting 2.0 features: Value4Value, Live, Transcript,Funding, Medium, Credits, Location, License etc.

Speed: Keep things moving fast with your podcast

Podping: Programmatically refresh your feed

Access: Compatibility with PowerPress, podcast apps, etc.

Security: HTTPS, SSL certificates and more

Insights: Detailed podcast statistics
Ease: One podcast RSS feed
We're excited to be offering additional tools such as Podcasting 2.0 features, Podping and continued compatibility with PowerPress, all app directories and security measures. If you have questions about the switch or the benefits of using Podcast Mirror, read here to learn more.