Podcast: Play in new window | Download (Duration: 15:10 — 20.8MB) | Embed
Do you need (or want) a podcast co-host?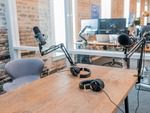 First off, you do not need a podcast co-host. The beauty of podcasting is that anyone can do it and the barrier to entry is incredibly low, this includes doing content by yourself. Here are some pros and cons of having a podcast co-host.
Today's Hosts: Todd Cochrane and MacKenzie Bennett
Reviewing the pros and cons of having a podcast co-host
---
Pros
Content collaboration

Less stress involved in execution

A fun working relationship with a colleague, friend, etc.

Consistent tone and messaging coming from the show

Delegated responsibilities

Conversations and content flow better as opposed to speaking to yourself
Technology advancements have greatly changed multi person podcast capabilities.
Cons
Less creative control with a co-host

Sharing monetary earnings

No legal disputes over intellectual property and content if you do not have a co-host

Basically any kind of legal issue that may arise

How to end the show or part ways
Not everyone will be interested in having a podcast co-host and for good reason. Not all shows are meant to have that duo (or more) dynamic and that's one of the great things about podcasting, you can forge ahead at your own pace and create a wonderful podcast all on your own.
---
The best place for support with any Blubrry product or service is our ticket system. Tickets give the whole team access rather than direct emails or calls.
Fill out our listener survey at surveys.blubrry.com/podcastinsider
Hosting customers can schedule a one-on-one call with Todd or a tech checkup with Mike

todd@blubrry.com and mike@blubrry.com