Podcast: Play in new window | Download (Duration: 29:10 — 40.1MB) | Embed
Tips to Getting Your Podcast Going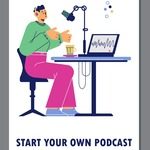 As people who have launched lots of podcasts over the years, Todd and Mike from the Blubrry team are more than equipped to provide tips on the best way to start a podcast.
Welcome to the new look, new format Podcast Insider! For Episode 333, CEO Todd Cochrane (@GeekNews) and Blubrry Support Evangelist Mike Dell (@MGDell) take us back to the basics to discuss the best ways to start a podcast.
We hope you enjoy today's episode of Podcast Insider; we've worked hard to ensure that you're getting the best podcast knowledge. We'll still be periodically having guests on, so if you're interested in being featured reach out to the team.
Today's Hosts: Todd Cochrane and Mike Dell
We cover a variety of items at hand when starting your podcast.
Topics – Pick one you're relentlessly passionate about and won't run out of things to say about it; skip popular and stick with something you care about.
Podcast Titles – Do your research and secure the title quickly. Research other shows, you can do so here. Don't make this too difficult to spell or pronounce.
Websites / Domains – Lock down a URL before it's already taken. Consider if it will be your show title, network, business, your name, etc.
Artwork – 1400×1400 is recommended. Directories are very picky about this, so you have to get the specs right.
RSS Feed – Time to setup the lifeblood of a podcast; we suggest using PowerPress and Blubrry hosting.
Trailer / episode 0 / launch episodes – Should you do them or not? It depends, but it typically doesn't hurt to give audiences a heads up.
Directories – You can't submit to directories until you have your first episode; Apple, Spotify & Podcast Index. The page on where to submit your podcast can help.
Pro-Production Tip
Batch Recording and Social Media Setup
---
Got a subject you would like us to cover on the show, Drop an email to mike@blubrry.com (audio, text, video), and we may use it. You can also post a question on the Blubrry Podcasting Facebook group.
The best place for support with any Blubrry product or service is our ticket system (https://blubrry.com/support/). Tickets give the whole team access rather than direct emails or calls.
Fill out our listener survey at surveys.blubrry.com/podcastinsider
Schedule a one-on-one with Todd (hosting customers only). Email todd@blubrry.com

Schedule a tech checkup with Mike (hosting customers only). Email mike@blubrry.com

Send us your podcast sticker and a self-addressed stamped envelope (SASE) and we will send you a Blubrry care package.
Our mailing address:
Blubrry – MacKenzie
150 E. Campus View Blvd. #180
Columbus, Ohio 43235