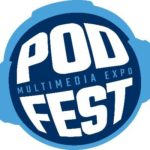 Jan. 26-29, 2023 was a special time for podcasters. More than 1,000 people attended Podfest '23 at the Renaissance Orlando at SeaWorld in Orlando.  The hallways (as well as the Main Stage) echoed with attendee pronouncements like, "This will take my podcast to the next level!" and "Best Conference Ever!" and "I don't know how I am going to fit my door prize into my carry on!"
In a review of the event, I do not want to provide a bullet-pointed list of my experience. Instead, I am going to share a couple moments from the conference that will impact my future in podcasting more than any other tips that I learned or any new contacts that I made. I did not see these coming…
I arrived early on Thursday afternoon when sessions were already underway and, honestly, everything was a little quiet. I took this time to volunteer a little bit and help out with some behind-the-scenes work. This was a great experience that I would recommend to anyone. While volunteering, I had the chance to chat with the people working the registration counter and, I believe, gain a valuable insight.
While Podfest attendees can only meet a certain number of other Podfest attendees, registration workers get to meet everyone. During a lull I asked them:
"Hey, you've meet hundreds of people that have their own podcasts. What is it that makes you want to follow up and listen to one of their shows? Is it their topic or their swag or what?"
I hoped they would say swag (I wanted justification to buy hundreds of stickers and a few shirts…). Well, what they said will require a little more work on my part. They said they wanted to find out more about podcasts from people who had confidence in their work and could talk about their work with pride.
Wow, you can't order that online! In the coming weeks I will be working on the 'elevator pitch.' Succinct, well-chosen words delivered confidently is the best thing I can do for my show. This was a welcomed reminder of the importance of initial presentation of my podcast.
The second moment of reflection for me was during Todd Cochrane's Keynote on Friday. His presentation about Blubrry's integration of Podcasting 2.0 addressed several podcast concerns that I have had since my early days in the medium.
I have always been worried about opening my podcasts up to be ad supported. What if an ad is inserted that is am opposed to? Or worse, does an ad appearing on my show suggest I endorse a product that I may not have personally tried? This is only two of my concerns about ad-based revenue.
I have always been stressed about integrating a separate payment/support process to my podcast. The idea of directing listeners to a service off my website or even adding a third-party 'Donate' button to my webpage feels counter-intuitive. I want my audience to stay on my website as much as possible and give them a quality experience while they are there. Forwarding them to Patron, or PayPal, or wherever does not serve that purpose.
Also, I am usually a late adopter. I let others spend their time perfecting something before I jump on board with anything. This unfortunately has left me well behind those who have capitalized on new opportunities. Is there something happening right now that is cutting-edge in the podcasting market that I can embrace and be one of the 'cool kids?'
Todd presented that Blubrry's partnership with Alby creates an ecosystem in which podcast creators can receive financial support from their listeners without making them go extra steps to other websites to 'pay'. Also, this new monetary process uses cryptocurrency. Even with recent cryptocurrency volatility, this is still a new, exciting(?) online area of growth. One can use this process that Blubrry and Alby have established and still be considered an early-adopter. Count me in.
So, full use of Blubrry's Value4Value monetization model and increasing my confidence about my podcast are two goals I have for the rest of 2023 as a result of attending Podfest. And I won a doorprize too.
Did you attend Podfest? Did you pick up any additional tips while there? Comment below and share!
____________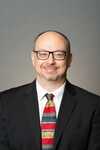 Troy Price is the co-founder of Front Porch Studio in Berea, Kentucky. He has been involved with podcasting for over a decade. Listen to his show Podcasting Tips from the Front Porch here.
Contact Troy by email at troy@frontporchstudios.com.