Podcast: Play in new window | Download (Duration: 33:43 — 46.3MB) | Embed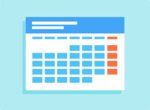 Many people have asked, even we have pondered and answered, and now there is a report on the best day to release a podcast. Kind of. A report has recently been released providing percentages on how popular each day of the week is to release a new episode. The data may surprise you.
Thanks for joining us on this episode of Podcast Insider. Looking to be a guest on the show? Let us know. Emails are listed at the bottom of show notes.
News
Best Practice
Use your voice to the best of your ability, and forgo trying to 'sound like a podcaster'. The best advice we can give to anyone that is anxious about how their voice sounds, is to do it anyway. Your conversational voice will most likely work best; and the content is the most important part. Articulate yourself well and your voice will follow suit.
Blubrry News
Blubrry offices will be closed the Monday after Christmas (Boxing day) and the Monday after New Year's Day. We will also be out the Friday afternoons of Christmas Eve and New Years Eve.

We are still head down on a bunch of new features and a couple of new products. Look for some announcements after the first of the year.

One of those features will be Value 4 Value, where you will be able to get donations to your show via Sats (small parts of bitcoin). This show is enabled for V4V so if you are listening on a supported app (Fountain, Podverse, or others), you can send us a boost.
Blubrry Pro Tip
Podcast Gear/Tech
Question of the Week
Question: What are the 3 or 4 best destinations to submit my podcast to? 
Answer:  Well, you want to try to be as everywhere as you can.  But if you want to pick the most important ones, I would say submit your show to these four:
Apple Podcasts

Google Podcasts

Spotify

Podcast Index
It doesn't hurt to submit to all the others. If you are a PowerPress or Blubrry user, go to the destinations settings and submit to them all. (Don't lose any sleep over it) 
Got a question you'd like us to answer on the show? Drop an email to mike@blubrry.com (audio, text, video) and we may use it. You can also post a question on the Blubrry Podcasting Facebook group.
The best place for support with any Blubrry product or service is our ticket system (https://blubrry.com/support/). Tickets give the whole team access rather than direct emails or calls.
Coming to you this week from MacKenzie's Home Studio in Columbus, OH & Mike Dell's World Studio in Traverse City, Michigan. Produced by the Blubrry Pro-Production team.
Fill out our listener survey at surveys.blubrry.com/podcastinsider
Schedule a one-on-one with Todd (hosting customers only). Email todd@blubrry.com

Schedule a tech checkup with Mike (hosting customers only). Email mike@blubrry.com

Send us your podcast sticker and a self-addressed stamped envelope (SASE) and we will send you a Blubrry care package.
Our mailing address:
Blubrry – MacKenzie
150 E. Campus View Blvd. #180
Columbus, Ohio 43235