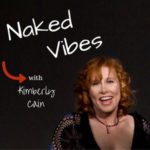 Arts – Naked Vibes by Kimberly Cain
Kimberly has been involved in public media for decades. Spanning radio, music, podcasting, and tv production, she's always found herself drawn to being creative with others. Read more to learn the details on how she came to be host of her current show and the numerous pieces of advice she has for all podcasters. Catch her as a guest on Podcast Insider here.
Thank you Kimberly for being October's podcaster of the month!
Tell us about yourself!
I've been a musician and performer for most of my life. I've opened concerts for artists such as David Bowie and Sarah McLachlan (Lilith Fair), and had my music featured on Dateline NBC and in feature films. I've produced entertainment for Dallas Cowboys, Oprah, U2, BB King, The Cure and have been the voice of campaigns for hundreds of clients such as Coca-Cola, Bell Helicopter, and Sheraton Hotels. I currently perform with pop music entity Local Honey for our annual holiday show featuring my sister, Kelly Brown, as well as many talented guest artists.
I see myself as a human potential catalyst. I founded The REALM, as well as RockIt!U, producing music and content to create shifts in consciousness, with the goal of helping people find more wholeness. My podcast, The Naked Vibes Show, features insights and provocative conversations with artists on their thoughts, travels, stories and live music. You can get bonus episodes with some fun behind-the-scenes footage, as well as get access to the new REALM community from the podcast website, NakedVibes.com.
Music heals in ways science is only just starting to tap into, though musicians have always known it. It reaches into places where nothing else can.
As a Certified High Performance Coach and Remo Drums HealthRHYTHMS facilitator, I use these in combination to help successful, creative men find connection to their core strength, their greatest energy source and their passion, so they can feel confident in their own skin, enjoy better relationships and health, and get more satisfaction from life.
My novel, Heaven, is a story of healing the perceived separation between the physical and spiritual self. It is currently in development as a TV series.
And, I'm an avid slalom course water-skier. I love to "feel the g's" on the water as often as possible!
What inspired you to do your own podcast?
It's funny. I remember sitting with the head engineer at a recording studio where I worked just after college (UT Austin) and saying, "One day, I'd like to have my own radio station." I was later on the morning drive show at Dallas rock radio station, KZEW. I missed out on the days when DJ's could play whatever they wanted (including an entire Led Zeppelin album), but I was working with a lot of those early rock radio pioneers. Though we had to follow a set playlist by that time, it was still exciting and I learned a lot from them. What we did have was fairly free rein to cut up and create all kinds of crazy morning show scenarios, often just barely inside what the FCC would allow (and sometimes a bit over that line). Good times!
I left radio to focus on performing original music I wrote with my sister. We still do that and I weave it into the podcast. After losing my daughter, and while caring for my father, I was hungry to be on the mic, sharing inspiration, education, and entertainment for people who might be going through their own difficulties and challenges. I knew what kinds of things I was reaching for in my own grief and I also knew that many people don't have a background of faith to draw on or a network of people who can help lift them up. I had the skills and knowledge to deliver in the podcast medium, I had my own studio where I recorded voice-overs for clients all over the world, I had the heart to reach out to others who might be suffering, and the passion to share music with a wider audience. Podcasting presented itself as that radio station of my own (almost). I can't play all the music I want, due to copyrights, but I can certainly refer to it, play my own music and that of my guests and friends.
I always feel "at home" when I'm recording the show. And I get so much joy and excitement from conversations with other creative people. 
How do you prepare for an episode?
I have a catalog of ideas for shows because they never stop coming! Whatever I'm thinking on, or whatever life is presenting at the time, raises questions and curiosity that I want to share or explore in a conversation. So, I write some bullet points. From there, songs that tie in to that subject in some way will present themselves. By that, I mean, the energy of a particular topic will just show up in various forms, whether it be in a phone conversation, on a TV show, in a song, or whatever wild way it chooses.
I determine whether the subject is one I want to present in one of my solo episodes, which I call Tune Your Vibes, and give some tips or exercises for dealing with it, or bring on a guest who might deepen the exploration with their own stories and experience.
In that case, I'll spend a little time visiting with them and in our personal conversation, ideas emerge for me to shape what I want to cover. I don't plan out exact questions. I just listen and let the conversation flow very naturally from there. That's where the fun comes in and magic can happen!
What advice do you have for someone just starting out?
Do your homework. Learn to record well, so your content is pleasing to the ear. There are all kinds of good courses online to help you choose the right equipment and learn to use it. It doesn't have to be the best of the best; but learning to record properly will help your recordings stand out. There's a lot of psychology involved in the way we present ourselves and the way a listener perceives the sound of the voice and their relationship to the speaker as well as the subject. I don't mean to add more complication for someone who is already daunted by the idea of starting a podcast. I just don't want to see someone, with a great message to deliver, miss out on sharing it because their recordings are too difficult for listeners to sit through or because they have a vocal habit that makes them unpleasant to listen to for a length of time. So many times, those habits are fixable, just by bringing some awareness to them. Even though you can edit out a hundred "umms", it's a lot easier to learn to pause naturally, without feeling like you have to fill the space.
Spend some time listening to your voice, get comfortable with hearing it recorded and take your focus off of having to make it perfect. Speaking from your heart with a desire to help, uplift, or entertain others shines through. And…you can hear a smile. So, be yourself and don't be afraid to make mistakes. People want to listen to the real deal.
Connect with Kimberly…