Podcast: Play in new window | Download (Duration: 51:07 — 70.2MB) | Embed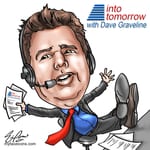 You're not done once you publish your podcast. Next comes marketing the episode, typically on social media. But before you do that, you might want to do one more thing right after you publish. Make sure that the episode indeed plays. That and more on today's episode of Podcast Insider with Todd Cochrane and Mike Dell.
Thanks for Dave Graveline for becoming part of the Blubrry community recently as well as being our guest interview this week.
Thanks for joining us on this episode of Podcast Insider. Looking to be a guest on the show? Let us know.
News:
Best Practice:
Don't be surprised, check your episodes after you publish them.
After publishing, hit play on the player on your site. Does it play? Does it sound good?

Make sure it's the correct episode audio. It can happen where you upload the wrong audio when posting a podcast, always good to double check.

Subscribe to your own show. Either in Apple Podcasts or Google Podcasts (if you are on Android). You will get the new episode quite quickly after publishing.

After 24 hours, check all the syndication points (Apple, Google Podcasts, Stitcher and so on).  If only one is missing your new episode, that means it is not YOUR issue, it's an issue with that platform. Rare, but it happens.  All services have issues from time to time.


Relax and get working on your next episode! It's all working perfectly.
Blubrry News:
Interview:
Dave Graveline's show Into Tomorrow with Dave Graveline

Connect with Dave here…
Question(s) of the Week
Question: Chris on Facebook: "Does anyone use Zencastr instead of Zoom for video interviews for podcasts? And why?"
Answer:  We use Skype and a very well-equipped studio setup with a video switcher, etc. for this show when we are doing live video. Today, we are trying out Riverside.fm.
Zoom works well because just about everyone has it, but there are a lot of good products out there for video and audio remote interviews and such; use what works for you.
______________
Be sure to subscribe to the companion show to this one, Podcast Help Desk where Mike goes a little deeper into the geeky and tech side of podcasting.
https://www.podcasthelpdesk.com
______________
Promo code INSIDER for a free month at Blubrry.com
Coming at you this week from Blubrry Studios in northern and southern Michigan. Produced by the Blubrry Pro-Production team.
Our mailing address is:
Blubrry – MacKenzie
150 E. Campus View Blvd. #180
Columbus, Ohio 43235