Free, Standard, Advanced: It's time to get used to the new names for Blubrry's podcast statistics plans. First off, nothing has changed about how these plans work; just the names have been updated to more clearly reflect what they are. Our stats still provide the same reliable, accurate and insightful information as before.
Basic (for the most part known as free) is now Free
Professional (Pro, included with hosting) is now Standard
Advanced (no change) will continue to be Advanced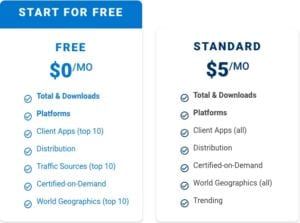 Not a stats user at this time? No problem. Our Free Statistics are available to any podcaster, as long as it fits with their host (not all podcast hosts allow for the Free Stats redirect). There is no harm in using our stats with a different host, and the numbers might even surprise you. We've been doing this since 2007 and we were the first to receive compliance certification from IAB (industry standards).
We hope you'll find these name changes helpful for understanding our services. We want to ensure that anyone — customer or not — fully comprehends what we have available, without a deep-dive explanation.
You'll see these changes reflected on our website, emails, receipts, etc. but it may take us a while to get them everywhere. If you see a mistake on our end, please feel free to let us know.
Learn more about Blubrry Statistics and get your first Standard or Advanced month free!